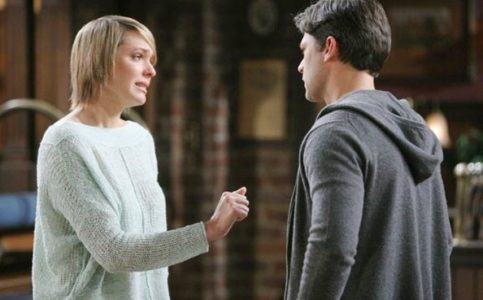 Days of Our Lives fans are going to see Nicole and Eric put aside their differences this week as they learn to get along while in captivity. She's still unhappy that he made the terrible decision to drink and drive that fateful New Year's Eve. It took the life of her fiancé, and she's not over that. She's so unhappy she can't even stand it. Nothing in her life would be where it is now if Eric hadn't made that decision, but the past cannot be changed. She's stuck with him in the captivity of a crazed murderer, and there is nothing she can do about that but put aside her problems and work with him on an escape route. She's going to make it work, and we think there is a chance they will get free this week.
Rumor has it they come up with a plan that allows them to escape the horrible captivity that Xander has them in under Deimos' instruction. But Deimos is not going to give in to them, because he wants to come in and be their savior so Nicole will decide she's still in love with him. Xander has double crossed Deimos, though, and things are getting pretty bad. Fortunately, we hear they get out of it, and they make it home. It's not precisely their plan that works in freeing them, but they are helped by their friends. Deimos will be taken by the police, but Nicole and the baby will manage to escape. Will Eric be the one who helps them go free? Will he help Nicole as she escapes from the people who come to rescue them so she doesn't have to go back into police custody?
Is this how she will end her arc on this hit show? She will escape the law and hide out some more with her baby? Is that how she will end things and end up being gone from the show? We think so, and we can't think of a better way to get out of the issues she's got going on. We'd like to think as she's gone she's found a way to live a quiet life with the baby she's always wanted.
Tell us what's wrong with this post? How could we improve it? :)
Let us improve this post!