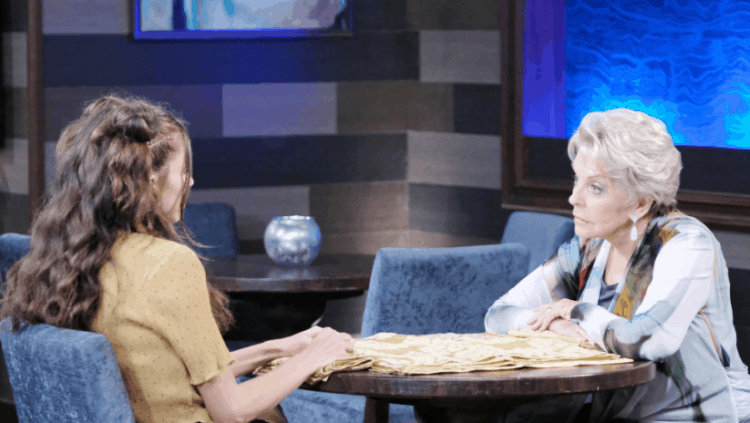 Days of Our lives fans are still reeling over all that happened last week when we watched Diana attack Marlena, John pray over her and watch her from her bedside, a nurse told him it was Kirsten, and then we all find out that Diana is not going to leave his side no matter what happens here. It's been one of those weeks in which we don't know what to think or expect of anything that happened, and it's been crazy. We know that she has to be all right. She's been through entirely too much in the past few months, but how will this affect Kristen — who did not do this? She's been guilty of many things in the past, this is not one of them. Diana did this, and she's working diligently to be a friend to John in his time of need. The time of need she caused him.
Brady is not thrilled to learn that Leo is his half-brother. And there's more that with him, too. He felt the need to become frustrated with his own brother for kissing Sarah, which is not really part of his business. We know that some things are too much for others, and this is one of those things. Meanwhile, he's upset that Chloe is also spending so much time with Stefan, who wants to be part of a relationship with her, too. Stefan is feeling confident and good about his life and what is going on in it, and that's all there is to it. He's also so confident in the way things are going that he's offering advice to people like Ben, who just happens to be the person who ended things with Ciara thanks to the problems that he's having in his own life. It's been crazy.
What's Happening on Days of Our Lives
.@KassieDePaiva joins @MichaelFairman to talk about Eve's role in the immigration storyline. Plus, we go behind the scenes with @ericmartsolf, and @victoriakonefal in the latest Inside Salem!https://t.co/bmBVq4hWnv pic.twitter.com/qire5FFyEE

— Days of our Lives (@nbcdays) March 17, 2019
This is another one we are super excited about! Will you tune in?
What's Next on Days of Our Lives
The single ladies of Salem are thirsty this spring. #DAYS pic.twitter.com/LlUWXfk6Is

— Days of our Lives (@nbcdays) March 15, 2019
There's a lot that we aren't sure about, but we do know that there is something we can figure out around here. For one, we think that Sarah is going to get her mind changed yet again. She's working very hard to find things right with Rex, who crushed her heart recently. But, we think that there is nothing that will change in her mind right now. She might just be happy to be with him when she's with him, but she's also developed some feelings for her friend Eric that she cannot change, and she cannot fight them, either. Eric is a nice man, and he's a good guy. He's still heartbroken over the situation that was Nicole's death, but there is so much that she cannot help him with.
He might not be ready for the kind of commitment that she is looking for. She was engaged to be married. She was celebrating her own engagement, and she might not be willing to figure out her life in any other way than to be with someone who wants to marry her. We have a feeling that she might not be wiling to be with him if he is not going to commit to her. It might come down to who will be with her in the long run versus who she wants to be with more. Rex is not that good for her, if you ask us. We just don't love them together, and we aren't looking to see them work this out.
Stay tuned for more Days of Our Lives and be sure to check out TVOvermind daily for the latest Days of Our Lives spoilers, news, and updates.