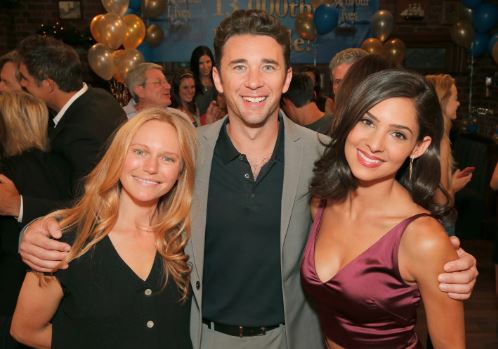 Days of Our Lives fans know characters come and go with a vengeance around here. We know that there are people who come, people who go, and people who aren't going to make it around Salem. We have a long list of characters we've loved and still love over the years, but we also have a list of people who think didn't make sense, didn't work out, and didn't make us want to be around them at all. Not all characters introduced to this show work out for us, and we are not going to lie and say that we liked having them around. These are our least favorite characters of all time.
Mimi Lockhart
Do you remember her? You might not, and that's not really surprising. She didn't bring much to the show other than to drive us crazy and make us wonder what is going on with her otherwise. She's the kind of person who showed up a long time ago, and she didn't really work for us. Her story never really struck a note with us, and her exit was welcome. She showed up as a teen troublemaker in the late 90s. She was on the show for a while, but she was never quite able to get her life together enough to grow up with the people around her who did grow up and age into adults. She always stayed a perpetual teen in our lives, and she never really got rid of that. The character just didn't work, and we aren't upset that she was done with the show.
Cassie Brady
We still aren't sure what in the world happened here. She showed up with Rex in 2002 as twins. They were initially thought to be aliens visiting from another planet — a story line that is even more ridiculous than we can imagine in a soap — and they didn't make it much more enjoyable in any other manner. We did get to see that things turned out well for other people, but not for her. She could not get it together when she was then thought not to be an alien, but to be the child of Marlena and Stefano, and then it was that she was the daughter of Kate and Roman, but no one could really figure out what she was doing there, what she wanted from this role, or what was going on at all. We didn't get it. We still don't get it. And we don't care much for it. We are just glad she's gone.
Stefanie Johnson
We think the problem here is that she had some seriously big shoes to fill, and she did not. She is the daughter of Kayla and Steve. He is a major character with a super story and he's always making waves. Her mother is an amazing surgeon, and yet she showed up as a very rapidly aged character who didn't do anything at all. She was not cool like her father. She was not successful like her mother. She brought literally nothing to the table except a long list of things that we just didn't get. She's not someone we thought was a good addition at all, and that's not much to say for her. She was basically a giant disappointment.
Claire Brady
We struggle with her. She's Belle and Shawn's daughter, and she is a problem. She's been with her grandmother, Hope, for a while now, and her entire life goal is to make sure that she keeps her aunt as miserable as possible. Ciara is struggling in her own life, and Claire likes to go out of her own way to make sure we all think she's awful and horrible — and she's mean to the young woman who is her aunt. We just struggle with her not because she's not good at what she does in terms of her acting, but because we can't figure out what this character brings to the table other than drama and a disappointment to everyone. She's not good for the family image, and we just don't get it. We struggle with her, to be quite honest. She's not our favorite, and we want to see more from her.