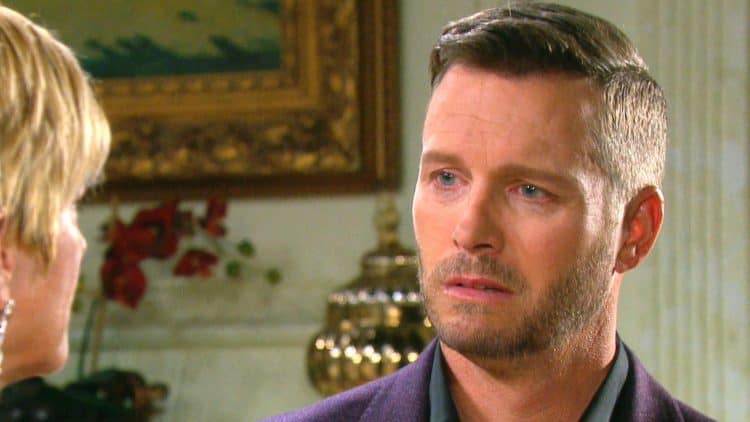 Days of Our Lives fans are not sure what might happen as the month goes on, but we think that there are a lot of things we are going to see coming this spring. Back in December, we brought you our predictions for the winter season, and we did make a lot of correct predictions. However, there were also a few things that we didn't get right. Of course, we make mistakes, but we also had a lot of correct things to say, which means it's time for us to go into the spring predictions for this season. We think we have a few ideas what to expect as we are only about a week or so away from welcoming spring into our lives. It's time to see what we think we can expect this spring season in Salem.
Stefan Returns
Of course, we know he is coming back. He has to come back because the actor who plays him is back to work. We don't know when and in what capacity he is coming back, but we wonder if this is going to be the thing that undoes Gabi — provided she can keep herself out of jail after all the problems she's caused. She might just be able to live her dream life with the man she was so in love with who died in front of her, but she might not, either. If he is alive, where has he been all this time, and what is he? We have a feeling that Stefano and Rolf might be in on a few things with this one, and this means that Stefan really might not be himself, which could push Gabi over the edge at the end of the day.
Bye, Steve/Stefano
He has to go now that virtually everyone in Salem knows who he is. It won't be immediately. It will be a few weeks into spring before this happens, but he does have to bail. Will he fake his own death yet again? Or, will he just vanish? Will he have Rolf put him into another body? We already know that he is planning on putting Marlena into Kayla's body so that they two of them can be together and no one will ever question a moment of their time together. It's all a thing to him, and we don't doubt that he can do this in a moment without anyone being any wiser. On that note, will this allow Steve to come back as himself for good? Or will anyone even believe him if he does? We just don't know that much, especially as it pertains to the details of this situation, but we do suspect there could be a few issues in the meantime. It's a thing, and we get it. But, he will leave as the man he is, for certain.
Baby Mickey's Identity
We are going big with this one. If we are wrong about this one, we will happily go home. We are going to find out that while Xander and Victor are completely aware of the fact that this is not the baby that Sarah gave birth to, no one else knows. But, this is not a good thing. You see, this baby belongs to Kristin and it belongs to Brady. It does not belong to Eric, who Nicole loves more than anyone in the world. She's already kept a big secret that almost cost him the man she loves. She knew this baby belonged to Eric for more than a year, but she agreed to keep it to herself because Sarah asked her to, and Eric was robbed of her entire pregnancy and the birth of his daughter. Now she is sick and dying, and she needs a bone marrow transplant from Gabi to live, but we believe Nicole is going to find out the truth. We think she's going to find out that this is not Eric's baby and we think she's going to make another horrible choice. Rather than telling him, she's going to keep this to herself and let him hurt even more until he finds out some other way, finds out she knew, and then ends things for good.