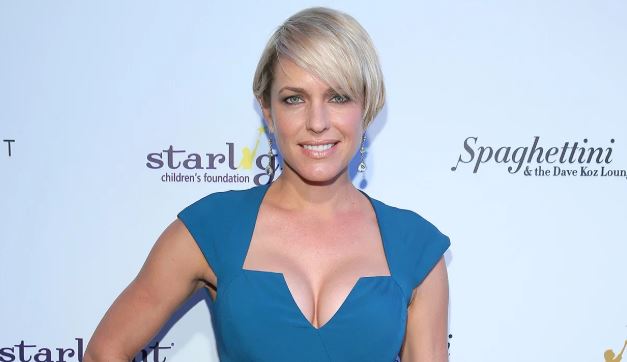 Days of Our Lives fans were more than a little excited to see a familiar face show back up recently, and it's because we all love Nicole. She left because she had to deal with the problems she created in her own life with all that drama with Deimos and Eric and Brady and her baby and Chloe and so much more. And that was just the tip of that iceberg. She got out of town fast, but she's headed back to see what kind of drama she can create for the people of Salem, and it's the perfect excuse for us to figure out what is going on with her, and to learn more about the beautiful actress who plays Nicole. Here's what we found out about Arianne Zuckerman.
1. She's A California Girl
What you might not know about her is that she's a born and raised California girl. She was born in Northridge, CA in 1974. Her birthday is June 3, so she was a summer baby whose mother was probably quite comfortable during her pregnancy while she had her in her belly. It was a good time for her to be born, too, because she was raised in some of the best years.
2. Her Parents Worked Hard
Her mother and her father both worked, which is probably where she got her love of working and her ethic from. Her mother was a lab technologist, and her father was a plumber. They did well in their lines of work and gave her a good childhood.
3. She's the Youngest Child
She has one older brother, and that makes her the baby of the family. It also makes her the only girl, which is a special situation for many kids. Being the baby and the girl meant she might have been able to get away with a little more than her older brother.
4. She Was A Cheeleader
She cheered in high school, but she said she never really felt comfortable on the sidelines. She was too tall, she wasn't one of the girls she felt made good cheerleaders, and she was someone who just didn't feel good about it. She did it for two years and then stopped.
5. She Did Commercials
Some of her early work includes commercials for companies such as McDonalds and Mazda. She was good in them, and that helped her land more work and eventually become the soap star she is today. She did good in her roles, so she made a mission to continue in this line of work.
6. She Uses A Different Name Professionally
She's actually Arianne Zucker in her acting credits. She didn't use her entire name, but we are not entirely certain why she didn't. It doesn't make much sense to us, but that's how she chose to go in terms of her life.
7. She Was Married to Brady
Well, not the current Brady Black. She met and married Kyle Lowder, who was Brady Black many years ago. They married in 2002, and they have one child together. That one child is the only child she has, too.
8. She's Divorced
She and her husband confirmed they'd ended their marriage in 2014, but she's all right with that. She had her issues in the past. She and Lowder split up for a while in 2007 before they decided to continue to work on their marriage. Unfortunately, it did not work out for them. They ended up calling it quits less than 7 years after they first decided they were no longer good together.
9. She's Made Guest Appearances
She's been in some of the most fun shows on primetime as a guest. Some of those shows include "CSI: Miami" and a few others. She also stars in some television film movies, and they make her feel good about her role on television.
10. She's Not "Back"
Since Nicole just made her way back to Salem, she's got fans feeling as if she might be back for good. She wants her fans to know that while she's here to do a guest spot, she's really not back for good. She's been working very hard to keep herself occupied recently, but she's not back to do things for the long-term.