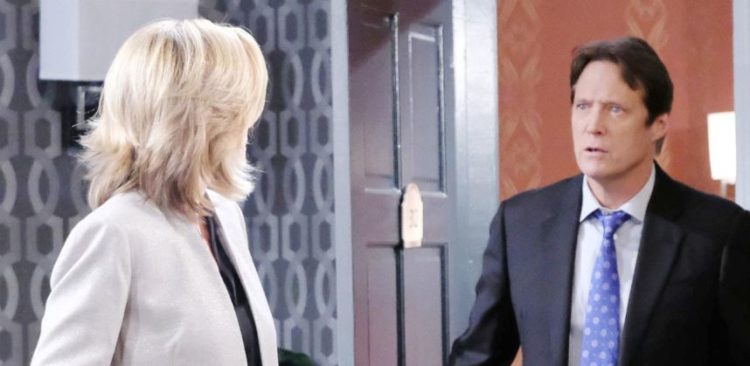 Days of Our Lives fans are not going to see things improve for Kristin in the near future. She's gone off the deep end, and she's asked her own brother to marry her. We see what she is doing, but we don't see how she's going to make this work in her favor. She's got more than a few issues of her own, but she's living her best life trying to figure out how to handle things that are coming her way. We don't know if she can make it happen for herself or not, but we do know that she's got some time to figure it out before her secret comes out and everyone suspects that she's working on other things. But, really, we are just sitting here like what is going to happen to ruin what is going on with Gabi and Stefan. They need to get married quickly, and that is going to happen.
But, someone is going to come in and ruin that, and that's something we can just feel happening. We know that some people want to see them fail — most people would probably be more accurate, would it not? And we don't now how to make that seem better. For now, though, we also know that there is a lot riding on what is going on in this situation. Would Kate or Nicole or someone else get in the way of this? We know Kate is and has always been a fan of Gabi, but she liked her for Chad. He's coming back, but this is not going to make her happy to see him with Stefan if that is the deal. We think we want more for them, but we don't know how that will work. We know the situation is going to change, but how and when?
What's Happening on Days of Our Lives
In the latest #DAYS, Haley has disturbing visions of Claire.https://t.co/ZsCmioRrzb pic.twitter.com/HTyYtg3UGZ

— Days of our Lives (@nbcdays) July 25, 2019
Because she was fantastic at this role.
What's Next on Days of Our Lives
Next week everything changes for four Salem couples. Watch #DAYS, weekdays on NBC. pic.twitter.com/1PK61bJnis

— Days of our Lives (@nbcdays) July 26, 2019
Stefan and Gabi are getting married, and they are kind of excited about it. It's all a little fast, and it's all a little sudden and not really how either of them saw things going in in their lives, but this is where they are and what they are doing and how they see things going. It's been a little bit of a situation with all that's happened in their lives lately, but it's been a thing. We get it, and we are all right with it, but we also know that there is a lot more going on than we can imagine. Right now they are focused on planning something that will work for them. They might not see this coming, but they will end up married and trying to fix the problems they have, and it might just fix other problems.
Kristin, on the other hand, is doing all she can to get the upper hand in some way, shape or form. She's not in a good place with the plan she came to town with, and someone is going to rat her out before much longer. Eve is demanding Jack stand down and do what she feels is right for her, and he is demanding that she leave. She is not ready to give up the marriage she so carefully created in order for him to get what he wants from his own life, but she's done just that. She's given him reason to give up on her, and that's all there is to it. She's not happy, and no one will ever be happy with this going on.
Stay tuned for more Days of Our Lives and be sure to check out TVOvermind daily for the latest Days of Our Lives spoilers, news, and updates.