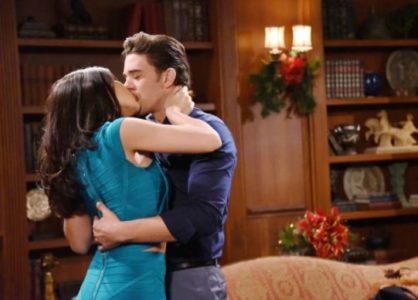 Days of Our Lives fans are pretty upset that Gabi's entire life seems to be affected by Abigail. She's not exactly her best friend, but the woman seems to have the biggest hold over Gabi's life, and Gabi is struggling in a major way. For one, she's not even remotely excited about the possibility that they are getting a divorce when she finds out that Abby filed. She and Chad are in Greece, they run into one another, and they sit for a chat. Ironically, Eli is also there, and he has some serious issues when it comes to Chad. He knows the history there, and it's not a good one. He's working hard to ensure he has things going his own way, but what happens when he sees Chad and Gabi hug?
He has no idea they were just mugged after learning of the sad news that is the demise of Chad's marriage, and he jumps to inaccurate conclusions. One such inaccuracy is that his girlfriend is looking to rekindle her short-term romance with Chad, even though that might just be the furthest thing from her mind at this point. She's looking to move forward with Eli, but she does feel sorry for Chad. His entire life is being torn upside down, and things are not looking good for him. She will listen as he shares some personal details of his life with her, but she's not going to go back to him, nor does she want to. She's not interested in him that way anymore, and she's not looking to gain any insight into what is going on in their lives.
She wants to be with Eli, and she's working really hard to make that last. But he is not going to have it. He can't stand to see her with Chad, and he's also becoming very close to Lani after her overdose and her withdrawals. But will these two work it out, or will they end up in a bad place all together? There is a good chance they have some issues to work out, and we don't think it will work with Gabi.