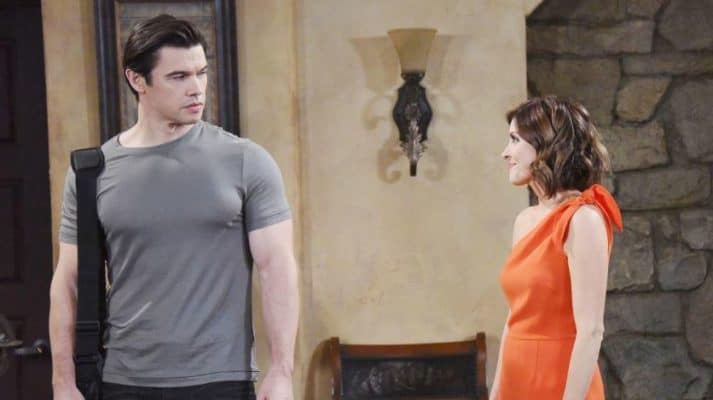 Days of Our Lives fans cannot stop watching Theresa continue to fight for Brady. She got a kiss out of him last week, and she's hoping she can win him over for good, but she's not entirely sure she can. Xander has told Eve she needs to just get out of there and make her own situation better without waiting on him to choose her, but she's not giving up. We're also seeing that things ended between Claire and Theo. We saw this coming, of course, when he left to spend a year healing.
But now that they're over, she's managed to make her way back into Tripp's life, and they're going to heat up even more than we saw them heat up yesterday. They are in the middle of what can only be described as very interesting love triangle, and Ciara is not happy about it. Kayla also told her she needs to be honest with Tripp and speak to him, and we saw that advice go down yesterday, too. But we don't know if she will listen.
What's New on Days of Our Lives?
There are a few new faces showing up soon in Salem, including that of Gilles Marini, who is no stranger to the soap opera world. He's had more than his fair share of roles over the years playing interesting characters who like to show up and cause some romantic problems for at least one woman. He's going to make his appearance today as the new attorney working for Leo now that he's accused Sonny of this horrible action as part of his grand plan and his master scheme. The former "Sex and the City," alum has already been involved in romantic rumors with Kate even though he's yet to appear.
Finally, there's a rumor that Belle and Shawn will make yet another appearance. They're gone, but they're always back. Fans love to see this happy couple show up and work their magic, and we will see them again very soon.
What's Coming Next on Days of Our Lives?
We hear a lot of stuff is going to happen in the coming days, and fans will not be disappointed by what's to come. We hear that JJ has an intriguing offer for Theresa this week. We don't know what he might want with her, but we hear that he has something to say to her that might make an interesting situation turn even more intriguing. Another interesting spoiler is that Kate and Leo's new lawyer will heat things up a bit.
She's been in a bad place of her own since she was taken hostage by Vivian and all that's gone on in other situations, and this might take her mind off things. She's not happy with Leo, of course, but she's working her own game plan in the meantime. She's got this under control, and we have no doubt she can handle this on her own without any help from those who want to do her harm. She will heat things up with his new attorney, Gilles Marini, and she will not feel bad about it at all. She's due a romance since all that happened to Andre, and now is her time to shine.
Justin is representing Sonny, naturally, and he is going to have a rough day with evidence is presented to him regarding what Sonny's been accused of. Leo played his cards very right with the romantic intent he had for Sonny. He conned him into situations that make him look very, very bad; and we believe he has video evidence he's manipulated to present. And Justin has to tell Sonny what he was given. Sonny knows none of it is true, but there's little he can do at this point other than what Justin is advising him to do. All we know is that Leo's new attorney is going to turn into a shark who will not stop until he wins for his client. Sonny has a very long road ahead of himself.
Stay tuned for more Days of Our Lives and be sure to check out TVOvermind daily for the latest Days of Our Lives spoilers, news, and updates.