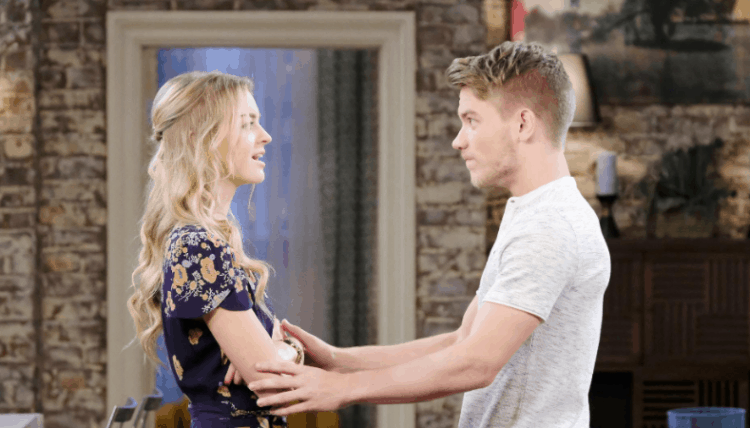 Days of Our Lives fans are not all that amused by the fact that so many things happened last week. We don't love Diana and her horrible ways, and we don't like her son and his horrible ways. But we do like that Brady decided to take things upon himself and make it happen in his life. He's a man who we can get on board with, and we will not argue with his ways. He's taken this man and turned him into something else, and we love that. We want him to succeed, but he's a little distracted by all things related to his brother. Well, brothers now. Eric is kissing Sarah, who has committed herself to Rex after all the things that went wrong at their engagement party, and we just don't know if there is anything else we can get on board with around here. We like Sarah and Eric.
And Marlena is not doing well, either. As John sits by her side in hopes that she will be all right, we are sitting here wondering if that's actually going to happen. We don't know if it's true she will be all right or not, but we do know that there is nothing that will stop John from making sure she is okay and that she does survive this. He and his friends and family will make sure she's fine and that her attack does not go unpunished. She is a woman who has a lot to lose, but not nearly as much as they have to lose by losing her. She's a mess, she's got a lot on her mind, and she's not going to handle this well. Diana is worried, and she should be worried for every step she's taking in the near future of her life.
What's Happening on Days of Our Lives
https://twitter.com/nbcdays/status/1109167926714740736?ref_src=twsrc%5Etfw
They definitely don't make it look as if their characters are not the best of friends.
What's Next on Days of Our Lives
Stefan catches Brady and Chloe in an intimate moment, while Ciara gets up close and personal with Ben in the hospital. Watch Days of our Lives, weekdays on NBC. pic.twitter.com/KUWx8MXeY3

— Days of our Lives (@nbcdays) March 22, 2019
We know that Leo is working his magic trying to get things to go his own way in so many ways, but we hear that something is about to go down that will bring him some news that he might feel is devastating, but we don't know what it is. We do know his beloved mother is in some trouble, though. She was a mess on Friday when John kept asking her questions about what happened to his wife. She was poisoned, and we know that it happened because of the fact that Diana wants to get John all to herself — but we don't want her to have him. So they had a thing a couple of decades ago. She's not had enough time to get over that? It's a little bit much for us, but she's feeling the guilt of what she did, and now she's not sure she can get her life together in a way that makes anything feel right.
But, we also know that JJ is going to feel that Haley will never be in his life again. Will that be the case, or will things end up working out in some way that will make their lives a bit easier? We are not entirely sure that they can make this work, but we have to put some effort into thinking that they can pull it together enough to give this young man some good news. All he gets is bad news anymore, and we cannot handle that at all. He's a good kid, and he needs some happiness in his life.
Stay tuned for more Days of Our Lives and be sure to check out TVOvermind daily for the latest Days of Our Lives spoilers, news, and updates.