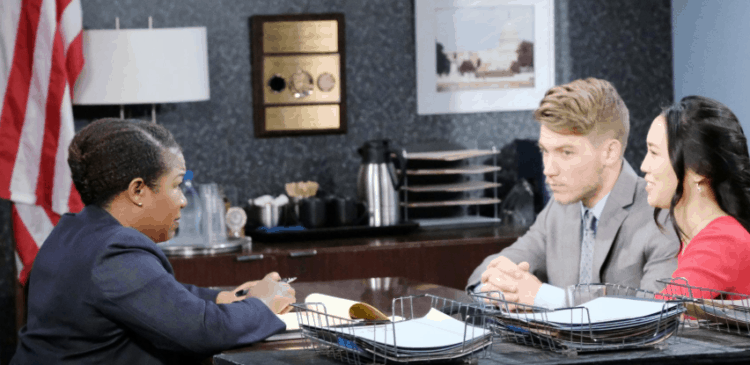 Days of Our Lives fans are aware that there are a lot of moving pieces going on right now, and this new week will prove helpful for some while not so much for others. Let's start with the biggest elephant in the room, which is the fact that there is a new baby in town, and no one knows who fathered this baby. Jordan sent Rafe to California to get the baby that no one even knew she had, and now he has to care for the baby since she cannot do it herself while she's in the hospital. And he has a lot more questions than he does answers. That makes us wonder what is going on, how we can focus on it, and what it means for everyone else. We are beyond confused by all of it, but we know that he will find out eventually what is going on. Meanwhile, his wife is the bigger problem in his life.
She's letting Ted get too close, and that's not okay. She has to find a way to put an end to this before things turn into a much bigger mess than they already are, but we are not sure that things will work out for him in that manner. She's attracted to Ted, and she's not even trying to hide her feelings for him. This is not a good situation for anyone. Eve upset Claire when she informed her that their plan will not go the way that Claire would like it to go. It's Eve's situation now, and Eve did her best to comfort the young woman, but she's still upset. She's rogue at this point, and we wonder what kind of a mess she will cause outside of what is already going on in her life. She's a questionable young woman.
What's Happening on Days of Our Lives
#DAYS gals enjoying some sun.

📷: @laurenkoslow pic.twitter.com/taoWmkNebp

— Days of our Lives (@DaysPeacock) April 5, 2019
And looking amazing while they do it.
What's Next on Days of Our Lives
Years ago, Jack rescued Jennifer. Now it's Jennifer's turn to repay the favor. Watch Days of our Lives, weekdays on NBC. #DAYS pic.twitter.com/Kpzeug4VYM

— Days of our Lives (@nbcdays) April 5, 2019
Rafe is on a mission, and we aren't sure he can handle what is coming his way. Can he find out who the father of this baby is, and will he be all right when he learns who it is? He cannot legitimately take care of the baby that Jordan has while she's in the hospital for her mental issues forever. But she seems to think that he will do just that. The math doesn't really work for us in terms of if it might be his baby, but we also know that a lot of people have had more questionable situations happen for them. We just don't know. But, for now, we can sit back and at least figure it out in some way, right? We know that it's something that he will figure out, but at what cost to him and his own peace?
Meanwhile, what will Hope do about Ted? She can't just keep doing this and calling it a day and pretending it's all right when it is clearly not all right. She's making questionable decisions and doing things that are not going to work out well for her marriage. It's like she's forgotten she is married. We don't know how to focus on that and then deal with the fact that she was so upset when Rafe slept with Sami when he and Hope weren't even together. She's such a double-standard in her way of thinking right now, and we do not love it. Will she get it together and fix her problems?
Stay tuned for more Days of Our Lives and be sure to check out TVOvermind daily for the latest Days of Our Lives spoilers, news, and updates.