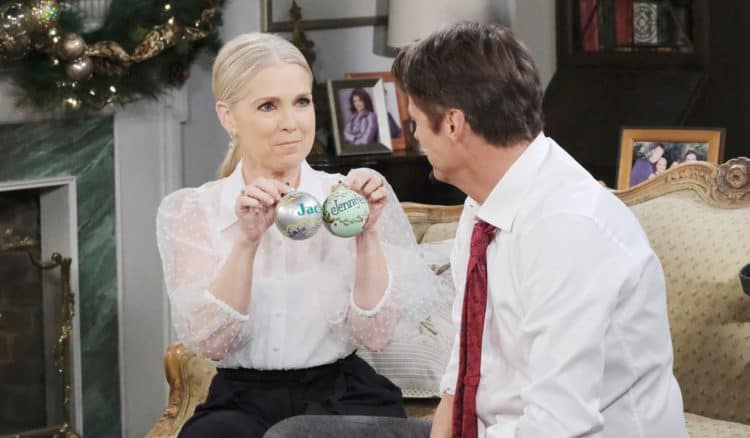 Days of Our Lives fans are sure that the year has been one of the quickest ever, and we don't know how we feel about that. It's hard not to be excited about a new year with new opportunities and new goals, but we do wonder, sometimes, where the year went. It was just Easter, and then it was the Fourth of July, and suddenly it was Thanksgiving, and now the kids that were born yesterday are going to college — and we don't do the SORAS thing in our real lives. Of course, no one's lives were as quick and as passing as those who reside in Salem. They did, after all, move forward a year in the course of an hour, and that's a big deal. We thought, with the year coming to an end in a few days, we'd talk about a few of our favorite moments of 2019. What are yours?
When Nicole Found Eric
We don't mean to sound like we are not happy that she had her daughter back and her life was in check after she was found, but the moment she reunited with Eric was a beautiful one. We loved it. We loved everything about it and all that it meant for those in Salem. She'd been through so much in her life, and she was not someone who was happy with the way things were going, otherwise. She was not herself. Literally, you guys, she was someone else playing her, and no one knew about it. But, the moment she was found and we got to see her come back to Eric was a moment we will never forget. It was nothing short of entirely beautiful.
When Xander Fell for Sarah
Maybe you disagree with us because this was not a major moment. It wasn't a big moment. It wasn't much of any moment, but it was a moment we cared a lot about. We liked it, we are down with it, and we want more of it. You see, he's such a bad guy, and he's a man who does horrible things. Yet, here he is making some big changes in his own life because he fell hard for one of the sweetest girls in the world, and he wants to be someone she is willing to fall for in return. He did a lot of things that are not typically characteristic of him, which caused us to believe he might be one of the biggest personality changes in the world. It was a beautiful moment, and we kind of liked it.
Jack is Back
We aren't talking about the moment we realized he wasn't dead, either. We were happy about that moment, of course, but we are more so into the fact that we loved the moment in which we realized he was remembering his life as it was meant to be remembered, and that was a beautiful thing. We were more than a little happy when his memories came back, he remembered his life, and he wanted to be with Jennifer all over again. It was lovely, and we liked it a lot. They are a sweet couple, and they needed this in their lives. We know few other things worked out for them, but this was a good situation.
When Abigail and Chad Chose Themselves
When they decided that they and their family were more important than everything else going on and took off for Paris, we thought it was a beautiful moment. We loved it, and we were more than a little happy to see them make that change. They needed that, and we needed that for them. They were so good together, but they had a lot of bad luck in their lives. We were horrified that the way their life was turning out was their reality, thanks to Gabi more than anyone, but we were happy when they put themselves first and took off. We are sad, however, that things don't seem to be working out for them at all, but we loved them taking that moment to choose themselves over everyone else. It was a good one, and we liked every second of it while it lasted.