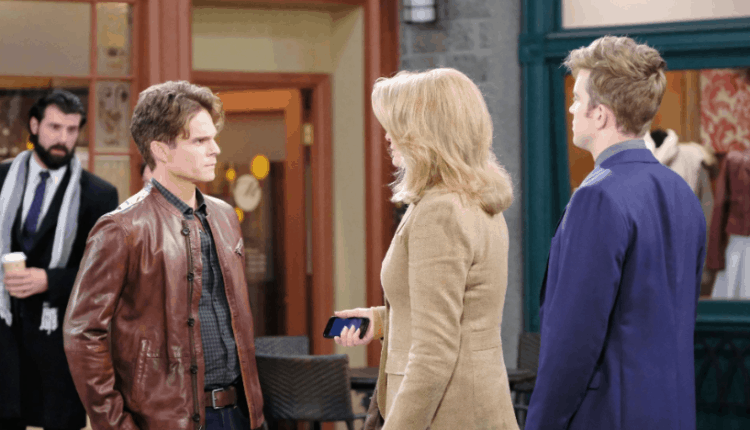 Days of Our Lives fans know that there are some big changes happening right now, and one of those big changes was the big goodbye we said yesterday after Chad and Abigail said their vows to one another again. They made the decision to remarry and spend their lives together with their two children. They are both gone from the show now, and there is nothing that we can do to bring them back. There is a chance, of course, that they could always come back in the future, but there is no way to know if that will ever happen. We are beside ourselves thinking that they are gone forever. We like them too much for that. But, we know that there is always a chance that even those who are gone in Salem are never really gone. So, we wait.
JJ has been asking his father repeatedly to say nothing about the immigration status of the young woman with whom he is spending so much time, but Eve is not thrilled that Jack is keeping this to himself for now. She will continue to encourage him to speak out and use this information for his own gain. He might listen to her since he feels he knows her and doesn't know his own son, but will that work? We just don't know what the future holds for them and what they might find when they continue to work together. Eli had to bring Will and Sonny in to ask them a few questions, and it infuriates Leo to find this out and to know that they've been spending so much time together. It's not something that he is appreciative of, and we can expect to see them end up in some sort of war that's even worse than the one they're already in.
What's Happening on Days of Our Lives
https://twitter.com/nbcdays/status/1098309916979326976?ref_src=twsrc%5Etfw
We are not fans. We just cannot get into this — at all.
What's Next on Days of Our Lives
Love is in the air for Chad and Abigail as they get ready to get married one more time. Watch Days of our Lives, weekdays on @NBC. pic.twitter.com/XlibR90G8D

— Days of our Lives (@nbcdays) February 15, 2019
It turns out that today is an ugly day. Stefan is upset because he's finally realized that Gabby is not coming back to him. He seems to forget that Gabby is not a real person — at all — and that this isn't something that was going to happen regardless, but he's free to live in his own crazy mind when he sees fit. He's a man who has a lot going on in his mind, and he's not all there in terms of what is happening in his life. But, for now, we get to see things unfold in his world. We have a feeling that he will end up being someone who helps out in other ways, too. He's a man who is not going to spend much of his time doing good, but there might be a moment in the near future when good is all he has.
And that's all we can say about that right now. We do hope that he has a chance to face things. We will find out today that there is someone who is going to make an appearance in the light of all that's happened recently. Remember when Ben rescued Ciara and someone set a fire and they almost died? Well, we are about to find out that everyone is going to learn who really did it — and it was not Ben. We even suspect that someone will make it their mission to apologize to him for the blame they placed on him and the fact that they didn't believe him all this time. It's going to be good news.
Stay tuned for more Days of Our Lives and be sure to check out TVOvermind daily for the latest Days of Our Lives spoilers, news, and updates.