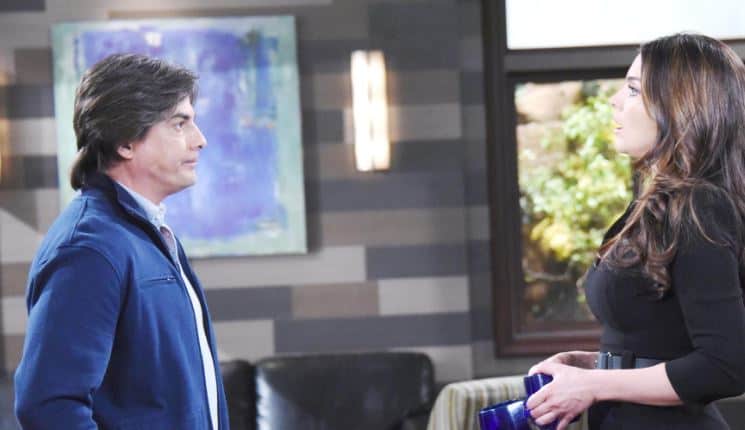 Days of Our Lives fans watched as Eric confronted his brother, Brady, and all things fell completely apart this week. It was not a pretty situation, and things are not going to get better for these two anytime in the near future if we have anything to guess. We think that they might just have a situation on their hands that they cannot handle. They are not handling thing well, and that's all right. They have some issues they need to fix, and they cannot get this situation under control at all right now. What's happened to them is a situation that we cannot handle or control, but we can handle figuring things out in another manner.
But for now, they have to get through this with as much help as they can. There's very little they can handle at the moment, but we do think that they might have a chance to get this situation under control. But for now, we just sit back and we watch them as they struggle. Paul questioned Will about their relationship, as if he has no idea that they really are not together anymore. It was kind of heartbreaking to watch this unfold as they are not a couple anymore. He's been with Sonny again, and Paul is so confused about it all. He's sitting there hoping thing will get better for them, and we are watching them knowing that this will not happen, and this is really not the case. There's so much suffering going on in their lives right now, and it's truly a heartbreaking situation. Adrienne will confront Sonny, because he is heartbroken about what is going on with Will. It does seem that things are not working out for anyone who wants to be with Will at the moment, and it is sad.
What's Happening on Days of Our Lives
Well, well, well! What do we have here? #DAYS pic.twitter.com/i8oRXRKwZe

— Days of our Lives (@nbcdays) September 24, 2018
Um…do you recognize these two? And do you wonder if there is a smallish problem that might just be at play here? We aren't sure that anything going on in this photo is a good idea, and we are not sure that there is much of anything that will put anyone in a good mood if this gets back to the wrong people. But, we love their drama and we can't wait to see how it all unfolds.
What's Next on Days of Our Lives
This Fall on #DAYS. pic.twitter.com/YJz17lTwBz

— Days of our Lives (@nbcdays) September 21, 2018
Brady has had a very rough week. He's gotten some bad news about his son. He's gotten a big time confrontation from his brother. He's been in a place of sheer misery and upset for some time considering his family is going through something that no family should ever have to endure. It's been a rough, rough week for him — and he's struggling. He's struggling to the point he's not sure how he will get through this, and it's all bad news at this point. He is upset and totally founded in his situation, and he has nothing but bad news to handle and deal with at this point.
But there is nothing that will prepare him for what is about to happen when Eve comes to him to make a confession. We all know that she has a lot of confessing to do and it could be any number of things she decides she's going to share with him, but we also know that there is a lot that they have to handle in their situation. He is going to hear her make a statement that will completely blow him out of the water, and he's not sure how to do that. He cannot help but wonder if there is anything that will work for him, and he cannot help but wonder what is going to change in his life now. He has no more patience or ability to handle more bad news, and he's about to be hit with something that will forever change him.
Stay tuned for more Days of Our Lives and be sure to check out TVOvermind daily for the latest Days of Our Lives spoilers, news, and updates.
Tell us what's wrong with this post? How could we improve it? :)
Let us improve this post!