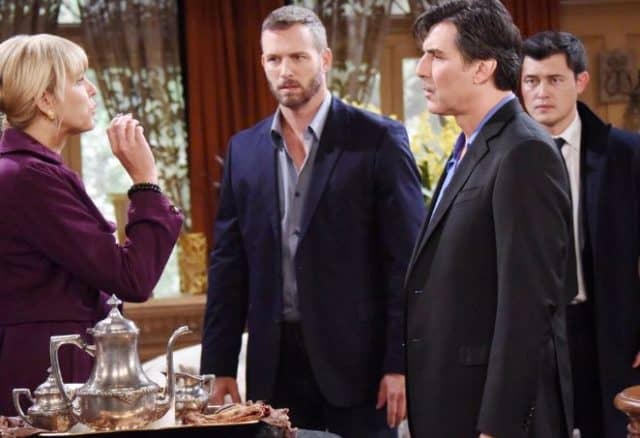 Days of Our Lives shows us that Deimos really has gone off the edge with no hope of ever getting back. He's so desperate to win back the love and affection of Nicole, he's planning something awful. He's already lost his mind kidnapping Gabi and Chad, and now his plan is to kidnap baby Holly. She's the baby who belongs to Nicole that Chloe gave birth to, lied to Nicole about, and then refused to give back to Nicole when it was discovered the baby is Nicole and her dead ex-fiance's biological child. Did you catch all that? Now Deimos is desperate to get Nicole back. The problem is that Nicole can't have her baby back if she's with Deimos. So, she did the only logical thing and got rid of him. Now she's waiting to find out if she gets custody of her own baby or if the baby stays with the surrogate.
Deimos is just going kidnap Holly so he can have her to give to Nicole to win her back. We aren't sure if he plans on getting the baby and then taking Nicole and the baby to live wherever they want so they can all be together or what. All we know is he has lost his mind. Unfortunately, Nicole learns she doesn't get to have custody of her baby. That's when Deimos decides to kidnap the baby and see if he can win her back himself.
That's not the worst news, though. As she finds out that Deimos and Nicole broke up for good, Chloe is going to insist she won the custody battle and she will be the baby's mother. She's going to move away and start a new life with the baby since she has no support where she is, and she's going to make some serious enemies in the process. She has no reason to keep the baby now that Nicole left Deimos, and that's when Deimos is going to lose it and plot the baby's kidnapping. Will this convince Chloe that he means business and Nicole should have her baby back in her own life?