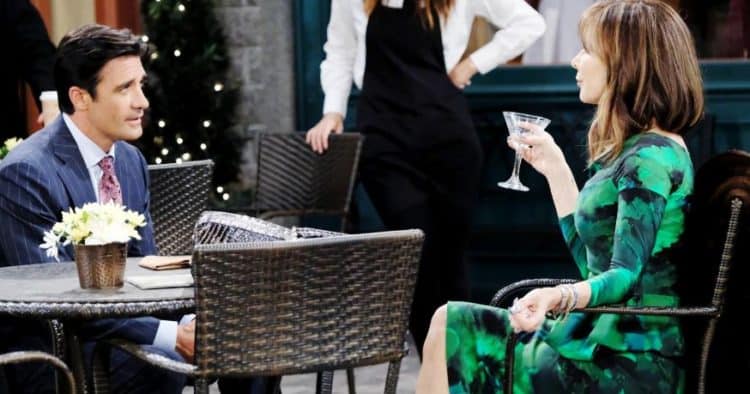 Days of Our Lives fans are not sure why Gabi and Stefan decided to wait this long to decide they were going to war, but that's what they did. They waited, and now they are left to face the facts. They have an entire situation to deal with, and they have to deal with it in a way that makes them more creative and better. But there is so much we cannot wait to see with that one. They are both mad at one another, for some very good reasons, and this should be quite good. Claire is looking to improve her relationship with Tripp, but we aren't sure that they can do that. He's into her, but he's not as into her as she is into him. This is something we've been noticing for a while. He might not be into Ciara, either, but he's a little torn between the two at times. He's not fully into it with Claire, and that's something she should fine worrisome.
Furthermore, we are going to see that there's a lot more we don't realize about Haley and JJ. She's in some trouble, but he cannot help but be drawn to her. He is someone who has been living with some bad luck in the past few years. The two women with whom he was most serious recently have both hurt him to the point that he might never want to be serious again, but he's been able to make some moves and find something that works for him. We are down with that, and we can only hope that he is able to get his life together enough to see this through. Mostly, though, we hope she's nice enough not to hurt him again. He can't handle it, and we want more for him.
What's Happening on Days of Our Lives
Like mother, like daughter. #DAYS pic.twitter.com/aeyV58MZ99

— Days of our Lives (@nbcdays) January 23, 2019
Their characters might not be having the best time on the show, but these two have worked together long enough to have developed a sweet bond. And we love seeing them with it on the screen.
What's Next on Days of Our Lives
Eyes wander when Haley gets a new crush, and Hope meets a handsome stranger. Watch Days of our Lives, weekdays on NBC. #DAYS pic.twitter.com/wbWEJ5fhNu

— Days of our Lives (@nbcdays) January 18, 2019
We are aware that Haley has a bit of a secret but we didn't know if she would ever share it. She's going to, though, and we are not at all surprised that her choice is JJ. She's been growing very close to him lately, and we just hope that anything she has to say to him will be welcomed with some serious open arms and not with any drama. His life has been rough lately, and he could use someone who is honest with him and not in the market for anything terrible or dramatic. Is Haley that kind of person? We want to know how he will respond to this when she finally opens up but for now we will just focus on the fact that she is opening up and that's a big deal. Most of the time, people don't open up. They don't have anything nice to say or do, and they make things hard.
Haley's secrets will come with her into the following week, though, as we do hear that there may be a little more drama that we can presently handle. She might end up being advocated for as someone makes it their mission to keep things quiet. Marlena knows something about her, and we hear that someone else is going to threaten her if she doesn't keep quiet about what she knows. Will she, though? We know that things aren't what they seem, but does anyone else realize the extent of all of this? And will she realize what might happen if she opens up?
Stay tuned for more Days of Our Lives and be sure to check out TVOvermind daily for the latest Days of Our Lives spoilers, news, and updates.