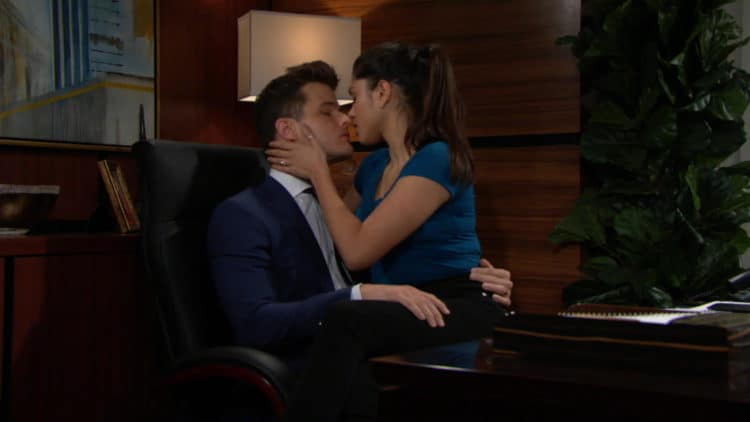 Days of Our Lives fans have so much more to offer one another than just a little bit of love in all the wrong places, but that brings us to something we've talked about before. Yesterday, we just spoke of couples who have terrible chemistry. And we feel that it's important you don't have terrible chemistry if you are involved in a relationship. You see, we like couples who have something to offer one another. We like couples who are good for one another. We like them to happy and amazing and pretty and good and filled with passion. Yesterday, we talked about some sad couples who simply do not have that. But, for now, we want to discuss those who do. Those who have that crazy, insane, amazing chemistry that makes you want to keep that kind of fire alive in your own marriage. Do you think you know who we will talk about?
Ben and Ciara
They are on fire. And that is not just because they have literally been in a cabin on fire more than one time. They are the hottest couple in Salem right now, and we'd like to see anyone try to disagree with us. They are clearly head over heels in love with one another. They don't think they can stand the idea of a moment without one another for the rest of their lives, and they will do anything for one another. Her mother might not like it, but she's found this man whom her soul recognized and she loves more than anything, and she's good to go. She's not leaving him. He's not leaving her, and they will continue to bring all the heat to the table. We love them. They are amazing together, and it is clear to us that they have so much more to offer one another than most people would imagine that they do. We love them, and we cannot think of a couple better suited for one another, and we can tell you why. You see, they love and respect one another and have chemistry. Most people on the show have chemistry, but they would throw the other under a bus if they thought that would help them live their lives their own way. Not these two, though. They are all the things good in the world.
Gabi and Stefan
These two are hotter than ever. They are in this to win this, but they don't really know what to do with it. They cannot stand one another, yet the are in love with the other. They don't know how to work that and what to do with it, and they are not sure how to proceed. Now that her mother-in-law is alive and well, which is not something either of them saw coming, we aren't sure that they will make it. But, we are sure that they can make this work if they try. They are so into one another, and they clearly have some insane passion for one another. It's hard to believe two couples have this kind of fire at the same time on the same show and both are young couples with so much to look forward to in their lives. We like it a lot.
Nicole and Eric
They might have horrible luck in virtually every aspect of their lives together, but they are amazing when it comes to everything else. They can do it, they can get it going, and they can keep it burning as hot as ever, but only until something goes down and they cannot do that anymore. They have some amazing chemistry, but they have horrible luck. We know, though, that they will end up back together as soon as they can be now that things are turning around for them, and we cannot wait to see how that all unfolds. They have a chance to make this right and to bring the fire and heat and the passion back in their lives, and we even think they can make it happen. But, there is more to this than meets the eye. There is more to this than we can imagine, and we know that is the truth.