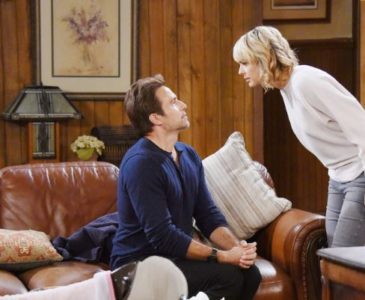 Days of Our Lives fans know anything can happen at any time. For Nicole, the entire world changed more than once in the past year. She first lost the man she was going to marry in an accident. He was killed, and his heart was given to another man she knows. Those two were planning on having a baby, but Nicole can't get pregnant. They did all the work to harvest her eggs and fertilize them by him, and then the pregnancy didn't stick with their surrogate. It was a devastating time for them, and then he died. Now she's left all alone and without anyone in her life.
That's when she met Deimos. He's Victor's brother, fresh off a very long prison sentence and looking for some revenge. She used him, then they fell in love, then they got engaged. Then she finds out the baby girl her friend Chloe gave birth to does not belong to Chloe and some random man she met once. It belongs to her and her dead ex-fiance. She wants her daughter, but her friend won't give her the baby if she's with Deimos. The choice was easy for Nicole, so she left Deimos. Then her friend decided she wanted to keep Holly for herself, so she took Nicole to court and got custody of the little girl. Then Nicole lost it, kidnapped her own biological daughter, and left town for Canada. Now Brady is helping her escape, and things are finally looking good.
Then the neighbor recognized her from her days as an adult film star. He looked her up online and figured out she's a wanted kidnapper who decided to make herself right at home in Canada, and now he is blackmailing her. Is life for Nicole ever going to change for the better? We don't know if it will, but we do know that things are only getting worse for her. The neighbor will call the police and report her if she doesn't do everything he wants, and we just don't know if she's willing to go all the way he wants her to go. Will Nicole ever catch a break?
Tell us what's wrong with this post? How could we improve it? :)
Let us improve this post!