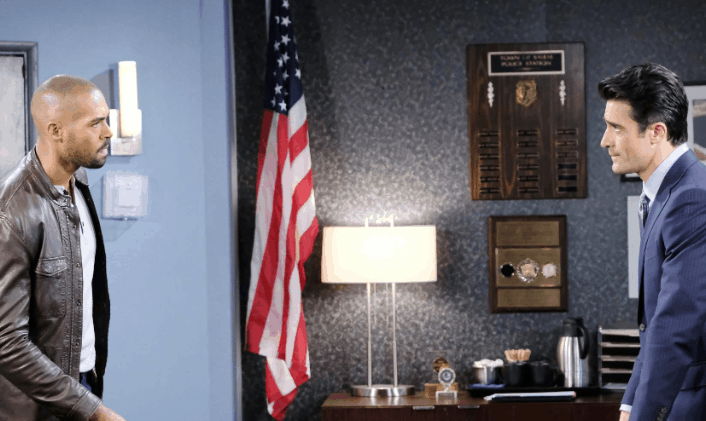 Days of Our Lives fans are not sure that things will improve for anyone in the coming days, but we hope that they do. Things with Jenn do not seem to be improving at all, and we are not sure that they will in any given time. She is going to find that her husband is all about marrying Eve, but he doesn't know any better. He has no idea how to live his life as himself since he has no memory of who he is or what he life was like before. All they all know is that they thought he was dead when he was not, and he has no idea who he is. And then there is Sonny and Will, who have to deal with the fact that Will has a tumor that will probably take his life. He is in a bad place, Sonny is in a bad place, and everyone is suffering. Gabi and Ciara are in the worst place, of course, and we can't figure out what the problem is with them.
It's an odd pair to put them together and make them feel like the ones who are not doing what they should be doing, but we know that this is to get back at others. Gabi was working so hard to make sure she could get Stefan to fall for her, but we aren't sure that this will work for her. Chloe also has feelings for him, and that might just mean more than she thinks. She might not realize that he's not all that into her right now because he's not sure what he wants. He's not sure who he is, what he wants, and how he wants to go about it. He's just not sure. But, there is always tomorrow, and there is always another chance.
What's Happening on Days of Our Lives
In case you missed this week's Inside Salem, @Chrishell7 talks all things Jordan. Then, @wallykurth, @TheJudiEvans and @freddiemsmith play a game of "Dish, Dirt or Delight." https://t.co/gmjF3djYuw pic.twitter.com/yGdeWcPwEK

— Days of our Lives (@nbcdays) April 19, 2019
There is a lot of fun going on here, and you don't want to miss that.
What's Next on Days of Our Lives
Two #DAYS couples have very different first-time experiences. Watch Days of our Lives, weekdays on NBC. pic.twitter.com/oepVaNfxhu

— Days of our Lives (@nbcdays) April 19, 2019
We know that Kate is working her angle to get a job at Titan, and no one is happy about any of that. There is a lot happening that might upset many people who now have to face her on a daily basis, and we think that one of those people will be Brady. We know he's against her hiring, and that he cannot figure out what Victor wants with her. We also know that Victor only does what he needs to do when he needs to do it, and he's not someone who makes any decisions that don't benefit him. But, she's going to overhear a phone call in which Ted is discussing Gabi, and she might just assume that he is discussing her because that is who has her. And we can guess that will not go well, end well, or make anyone happy.
On the other hand, Chloe is not happy about finding out what happened with Gabi and Stefan. She's looking to make that situation her own,. And this is not going to end well for her, either. She wants him, and that makes her angry. She's not going to be very welcoming of the fact that Gabi is moving in on that. Things are not going to work for her with Brady, either, since she feels he is responsible for her problems.
Stay tuned for more Days of Our Lives and be sure to check out TVOvermind daily for the latest Days of Our Lives spoilers, news, and updates.
Tell us what's wrong with this post? How could we improve it? :)
Let us improve this post!