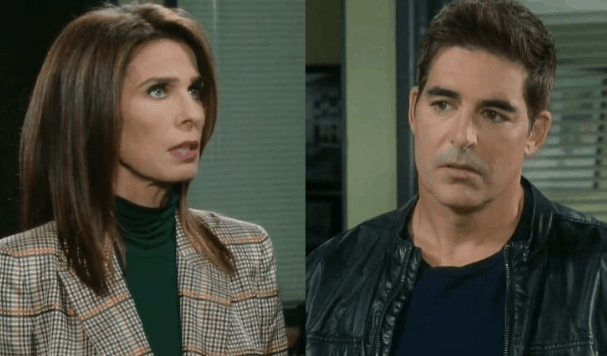 Days of Our Lives fans are not always in the mood for constant fighting, trauma, betrayal, and drama. In fact, sometimes, people like the happy moments more than the dramatic. We know, we know…that doesn't make much sense when you're talking about a daytime soap, but we promise we know what we are talking about. There are so few moments in which people are given the chance to have happy moments and peaceful situations, and we like to think that they are the kind of people who get to take those moments, embrace them, and work them to the best of their advantage. And we love that. You know what we also love? The best friendships that happen around here. They're good. And we like them — and these are our favorite Salem BFFs.
Sonny and Chad
This is a longtime friendship that began in an amazing way. They did grow up together, and their families might not like one another much, but they broke the mold. They are great friends, and they don't care if their families are not friendly. They've had their own differences, of course, because what friends don't have those? But they have always had one another's backs, and that is what made it so hard for us to watch Chad leave. He is the best friend Sonny has ever had, and he was there for his friend when he decided to make the big move and share his sexuality with the world. He was but a young man, and he knew that there was going to be a lot of backlash, problems, and situations that didn't work to his advantage, but Chad was there. He supported him. He was there for him. He was the man who did all the stuff that a best friend does when they need to be there. We love them.
Kayla and Hope
Women are difficult sometimes, and we get that. We are hardcore people who are expected to know everything about our kids, spouses, jobs, lives, extracurriculars, the location of that one thing that no one can find or describe, off the top of our heads. We are fountains of information that might seem useless to others, but it comes to us in a second and makes our lives run smoothly, and sometimes we are just short, impatient, emotional, and difficult. Hey — we can tell you where to find "that one thing that so and so had three Tuesdays ago" without batting an eye, so we can be a little crazy sometimes.
But these two have been there for one another through all of it. They have been there from the start for one another, and they always work it out. They have been there for one another through the hardest times, the best times, the most boring times, and the most confusing times. If one needs something, the other totally has it. And we love that. They don't talk about one another. They don't make mistakes with one another. They are good friends, and we love them.
Hope and Jennifer
They are friends. They are cousins. They are family. And they are close. They are always there for one another. Jennifer and Hope are both relatively quiet women who like to live their lives by making their situations as simple as possible. Neither loves to be involved in the kind of drama other women like to find themselves in the middle of. They aren't really the kind who like to do things that are meant to hurt others. They don't like to involve themselves in problems that are not their own, but they will be there for one another in a heartbeat without questioning anything else. If the other needs them, they are there. They will do anything, everything, and all things. They are the kind of women who like to be honest and upfront, even when they aren't getting along. They're not perfect, but they are so close that even a disagreement that would break apart anyone else is a minor bump in the road for them. We love it, and we are down for it, and we don't want to see them ever fall apart. Family first.