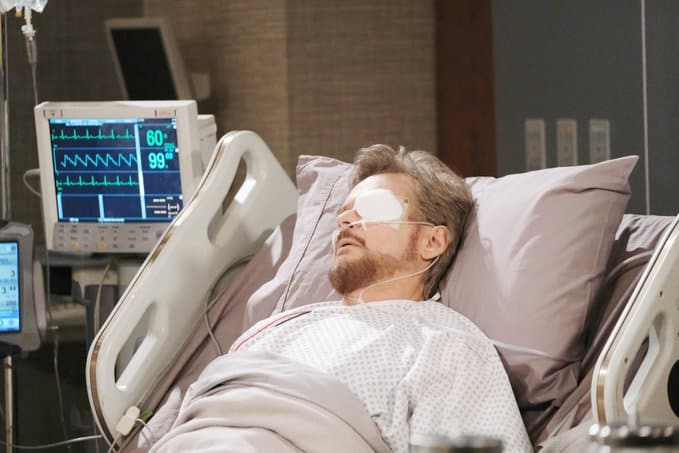 Days of Our Lives fans now that Kristin is going through a lot. She lost her baby, and she lost a large part of herself in the process. But, it's been discovered that she did not, in fact, lose her baby. Her baby was ripped from her arms and exchanged with a dead baby. That dead baby belonged to Eric and Sarah — and Xander didn't allow that to make it to anyone other than to himself and to Victor. They took this baby from Kristin and Brady and gave it to Sarah so that she could have her own baby, and now they've been found out. What is happening to Kristin as a result? She's got so much going on that is not going to play out well for them, but she's got to figure this out for herself. Marlena and John are going to act on her behalf. They have to.
We have a new face on set as there was a new Salem U worker introduced today. What will she bring to the table? What will she have to say to those in need? What will she have to say to those who are going to have more issues than they do anything else? We may not know, but we cannot wait to see. More importantly, though, we want to know what is happening next with this baby situation. How is Brady going to react when he realizes that this is going on and that there is nothing he can do but handle this himself. He will not be happy with Victor, and he will, if we are not mistaken, find a way to make sure that Victor pays for the hurt he's caused, and for taking his baby from him. He will not be okay with this.
What's Happening on Days of Our Lives
We'll find a way to get through this together. https://t.co/iMTBF3aIme

— Days of our Lives (@nbcdays) April 7, 2020
There's a lot going on, but we will get through this together.
What's Next on Days of Our Lives
Steve has gotten his memory back, and he's ready to fight for Kayla, but will Kayla choose to be with him or stay with Justin? Watch #DAYS, weekdays on @NBC. pic.twitter.com/uMilAKmVqB

— Days of our Lives (@nbcdays) April 10, 2020
Kayla has to do something very hard in her life right now, but we don't see that this is something that is going to last at all. You see, Steve is awake and he is happy to see her and he cannot wait to catch up and reconcile and be with the woman he loves and the woman he believes is happily married to him and ready to welcome him home. But, you see, she has to tell him that she's not free to do that. He was arrested and she was told she would never see him again, so she moved on. She has to tell the love of her life that she is with another man. She has to tell Steve she is with Justin now, and that is not going to go over well. This is, in fact, going to be a serious issue for everyone in the middle of every single thing. She will hurt telling him this, but probably not nearly as much as he will hurt hearing this.
Meanwhile, we also know that Kristin, Brady, Eric, and Sarah have a lot going on this week. Sarah is in no condition to deal with what she's had to learn, and there is nothing else that will ever make her feel happy again in her life. She's not the same woman she was before she was taken to the hospital, and she's not sure she can handle this right now. Her world is rocked, but she's also going to look for a way to fix this to the best of her own ability.
Stay tuned for more Days of Our Lives and be sure to check out TVOvermind daily for the latest Days of Our Lives spoilers, news, and updates.