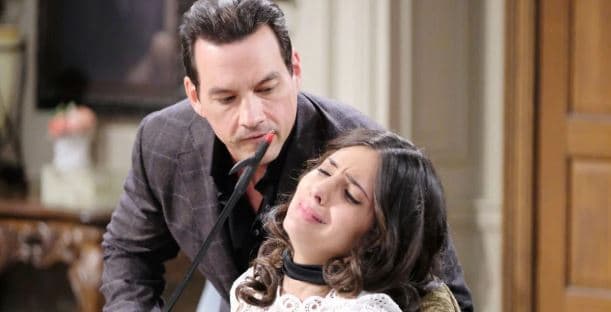 Days of Our Lives fans are often so upset by the way things are going that they don't really take a second to realize that many of the storylines that we watch throughout the years are recycled story lines, not so good story lines, or even really just bad story lines. It happens all the time, but we get so caught up in the drama and the moments that make things happen that we forget that we don't always love the way things go. It happens that 2018 was a year that was much like any other. Some stories were great, and some were awful, and some were not all that good. And we wanted to break down some of the worst storylines of the year. Do you agree, or do you feel that these were great and you don't like other storylines?
When Theresa Returned
We were all so excited that she was back in town! We wanted to see so much more from her and her return, but we didn't know it was a short-lived situation. The show hyped it so much that we were all so excited we couldn't even get a grip on our feelings. We were so excited to see her return, and we did think for certain that she would come in and take over her feelings for Brady that they would have a beautiful reunion in which they got back together, took care of their son, and things did work out for them. Brady had a rough year and things didn't go his way many times, but this was something we really thought would happen for them. We thought they would have a beautiful situation, and then it all went to hell and back in a major way. She was there to get her son, Eve ruined everything, and then she took over custody of Tate and took off. She has no regard for Brady's feelings, or their son's feelings, and she was good to go. And that was a mess for us to leave behind. It was almost pointless and disappointing.
Steve's Disappearance
Okay, so there are some things that don't work out for us, and this was one of them. For one, Steve was in a bad place all year. His friend poisoned him, his wife lied to him, and things didn't go well for him at all with his new stepson, his actual son, and so much more the past few years. So, when the show started and everyone basically took it upon themselves to make a mess of things, we didn't know what else to do. We didn't know what else to wonder about when we woke up one morning and Patch was just gone. There was no warning, no story to go with it, and nothing else to satisfy our need to see him return. He was just gone with a simple call to Kaya to tell him that he'd been arrested and charged with espionage and that he basically would not be back — ever. And while that does leave things open in case he and the show decide to get on the same page with him, we think that he can easily show back up. And we think the show should absolutely make that happen.
Eli and Lani's Baby
While the death of their baby was beyond tragic and upsetting, it was the moment that Eli found out that he was actually the father of the baby Lani was carrying — and JJ was not — and he was like, "Oh, let me just step back and continue with this lie even though my own mother knows I'm the father of this baby and everyone else knows except for JJ, who only thinks he is the father," all so he didn't have to deal with the drama. But he was happy to give up his baby just so he didn't have to upset JJ. That was a moment we could not get on board with at all. Who just gives up a baby like that without even thinking about it? We don't know, but we do know that this was not something we loved at all. It was a mess, and we aren't fans.