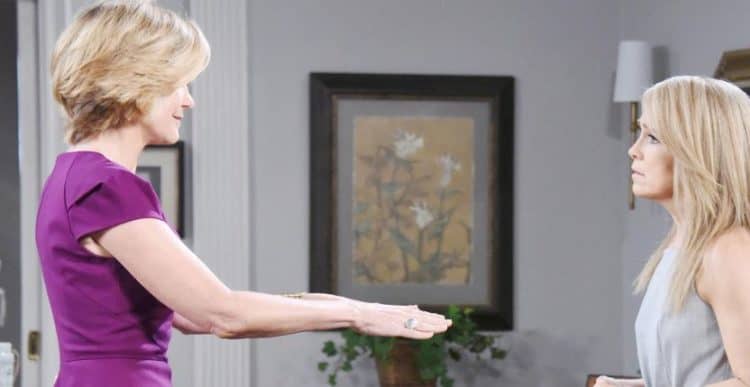 Days of Our Lives fans began the week with a bang, and it's only going to get a little crazier as things go on. There is a lot happening right now, and we don't even know where to begin with the recap. We all know that Brady received some concerning — upsetting, really — news about Tate. He's been beside himself with upset and anger since the entire situation with Theresa and the custody battle came to play. She came into his life and ruined it because she was mad he wanted to be with her sister and not with her. She used their son against him, and that's disgusting. But now he's facing a serious problem and has no idea how to deal with what is happening. And it's turning his life upside down. We didn't expect to see what we saw yesterday, but we are not surprised things are turning out like this for him and his son.
And then there was the moment in which John found himself in a sticky situation he had to get out of. His own life is a total mess right now. He's been married to a woman for a few weeks who has done nothing but lie down in her hospital bed and suffer a coma after being shot at her own wedding. When her directive stated she did not want to be kept alive by machines, he and their children had to make a very serious decision. When they pulled the plug, she woke up. But she's not entirely herself. In fact, she might just be someone else (that's our guess, you know) and there is little that they can handle at this point. This is a rough time for this family, and we don't know where to start with it. He's got a mess to clean up, and we aren't sure he can do it well.
What's Happening on Days of Our Lives
Save the date for Day of Days – a special #DAYS event! pic.twitter.com/CFh7gnhxpL

— Days of our Lives (@nbcdays) September 19, 2018
This is one show that likes to make sure their fans are happy in every capacity, and they're bringing another fun fan event to the fans. This one will take place in November, and details will be announced in the coming days. There is a lot to look forward to if you are a fan of the show, and it might just involve you getting to meet your favorite cast members. That's a fun way to start the holiday season, right?
What's Next on Days of Our Lives
This Fall on #DAYS. pic.twitter.com/YJz17lTwBz

— Days of our Lives (@nbcdays) September 21, 2018
Things are taking a very major turn for the worst for everyone around here. John has to get out of this situation, Brady is going to find that his brother wants to confront him about the way everything in their lives has gone down, and we are going to see that Hope is the subject of many conversations. She's making a mess of her life focusing on her daughter's relationship with Ben, and she's worried. She has every right to be worried, but she's been accused of fabricating evidence to make it look as if Ben did some bad things so that she can get him away from her daughter. But no one believes her denial of this accusation. Even Rafe believes she did it, and even her son believes she did it.
Rafe and Shawn are getting together to discuss what they should do about Hope. They are both worried about her, and they don't think that they can handle what's happening without being very delicate about it. They have a lot to offer her, but they cannot help her if she's not willing to be helped. They're in the middle of some serious business right now, but they don't know that they have much else to offer. They're going to find that things don't always work out in their favor, and that's news they cannot handle. We don't know how this will go, but we do know that it will not go well for them at this point. What can they do now?
Stay tuned for more Young and the Restless and be sure to check out TVOvermind daily for the latest Young and the Restless spoilers, news, and updates.