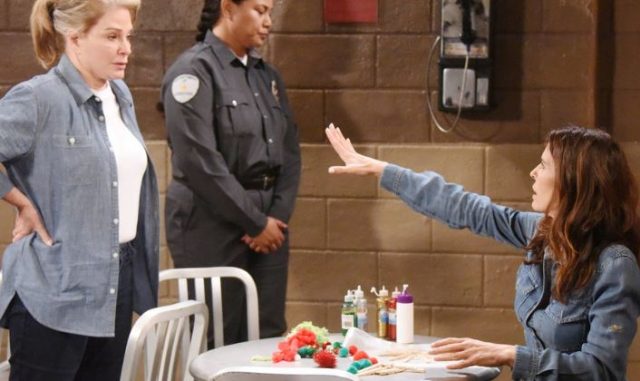 Abby has to make a decision, and her time is almost up on a brand-new Days of Our Lives. She's been hiding out from her husband and son for long enough, and now that her husband's new love interest is aware Abby is alive and not dead, her time is up. Gabi isn't about to let her new boyfriend's ex-wife hide out from him any longer. He's been hurt enough thinking she was dead for so long, and Gabi isn't exactly thrilled when she finds out she's alive and well and hiding from Chad. She's got to do it now, because Gabi will tell. Abby is afraid to reveal herself because she's afraid Chad doesn't love her anymore, but she's not making her case look very good by hiding from him, either.
Nicole has had a dream about Daniel, the late love of her life She's been thinking of him for a while now, and she has no idea that her friend Chloe is carrying the baby that she and Daniel made together before he passed. However, his visit with her has led Nicole to make a life-altering decision of her own. she's going to go on with Deimos. She's going to make the decision to let Daniel go to be with the man who loves her so much he'd do anything for her. She still doesn't know she's having a baby with her late husband, and we don't know when she will find out what kind of lies her friend is telling her.
We have a feeling it won't be long, however, as Deimos is closing in on the truth. He opens up to Brady, who seems to have lost his mind since Theresa faked being an addict again to save his life and get rid of him from the danger she poses, and that's not a wise decision. Brady is unstable at the moment, and he's going to go straight to Nicole with this news if we have anything to say about our suspicions. Of course, Brady might want to see what he can get out of this information before he makes a decision.
Tell us what's wrong with this post? How could we improve it? :)
Let us improve this post!