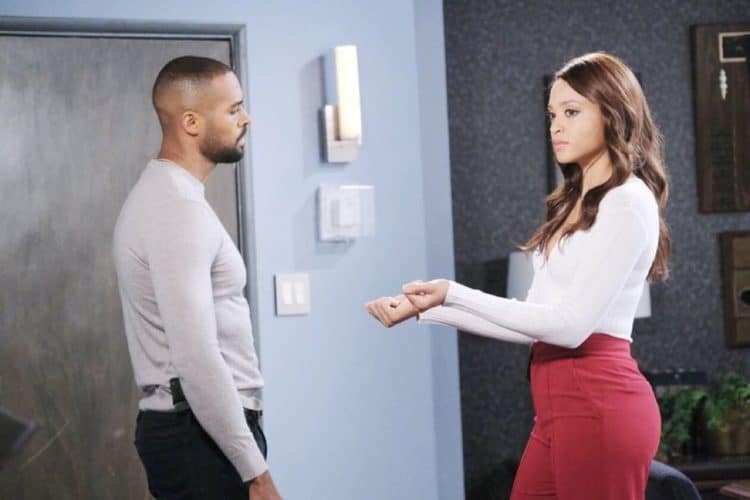 Days of Our Lives fans are well-versed in shock and awe. Things happen here all the time that don't happen in the real world, and we are quite accustomed to how many things might just go down when the time is right. You see, we all know that there is a lot happening that doesn't make sense in the real world, but it makes perfect sense on television. We know we cannot believe what we see, little of what we read, and even less of what we hear, but this is a show that has some shocking moments no one saw coming. We thought we might get into this with you for fun this weekend. What are a few things that have happened in Salem that we did not see happening? Things that we did not see coming? Things that just didn't work for us in any capacity, yet somehow they totally worked out for us in the long tun? Let's take a look at the stories that took a very different turn.
Steve Disappearing
Remember when Steve was arrested and charged with espionage and we were all just as shocked as can be? He was there one day, gone the next, and his wife got a call saying that he'd been arrested internationally and she'd never see him again? We all knew that this was because the actor was done with the show — we think that he was let go if we remember correctly — and that was just their way of getting him out when there was nothing left for him to do, but we were all shocked. To see this send off was just something we didn't see coming for a man with so much history and love on the show.
Steve as Stefano
Or would the correct term be Stefano as Steve? We cannot be sure, but we know that this is yet another something we didn't see coming, didn't love, and didn't want to find out. You see, we thought he was back as himself, and we were all so horrified to find out that he was not. It's not the same to see his face but not to see him as the man he was meant to be. We, one, don't like that Stefano was back at all considering we've never been able to see anyone else do this like Joseph Mascolo, who passed in 2017. But, to see Steve do it just didn't do it for us. We like him too much for that one.
Chloe's Baby Drama
This was another story that took a turn we did not see coming, and one we did not like that much. When she announced she was pregnant a few years ago, we were all a little shocked. But, we figured it would become another baby mama drama situation in which we didn't know the father, and it was someone who it did not need to be, etc. But, we were even more shocked to find out that this baby wasn't even hers. She went on and allowed herself to become impregnated with her friend's eggs and her friend's dead fiance's sperm, and she was having their baby. As if Nicole wasn't in enough pain and having a hard enough time, why would Chloe do this? We were not fans of this story at all, and it was only worse for us when Chloe decided that she didn't feel that Nicole was a fit mother for this baby.
What did she think was going to happen when she lost her fiancé in a car accident caused by the man she once loved more than anyone, and his heart was given to another man, and she was seeing more of her fiancé in said man, and she ended up being with someone horrible for her? Chloe doesn't get to make decisions like that one, and this was something that really did rub fans the wrong way. Her behavior and her actions caused a lot more drama and a lot of problems that did not need to occur in Nicole's life, and it was selfish and awful of her to assume she should do any of these things to Nicole.