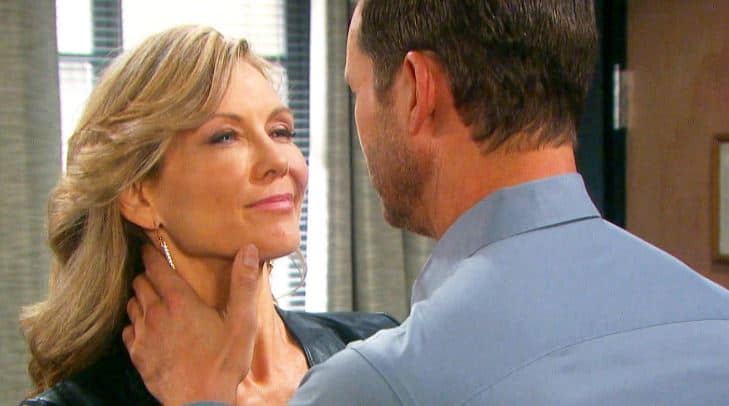 Days of Our Lives fans are not all that amused by the way things are turning out for so many people. We watched as Claire made the decision to use Ben so she could get what she wants, and it makes us all uncomfortable. She will do anything and everything she can to make her aunt miserable, and we hate that for her. We hate to see her upset and miserable about the way things are going to the point that she would go out of her way to befriend someone she doesn't even like or want to spend time with for the simple reason that she can break up her aunt and her boyfriend so she can steal the boyfriend for herself. Her parents probably need to get involved in her personal life here and make sure she learns that you cannot lie, cheat, steal, and manipulate your way into getting what you want from life. She's a mess.
Ben, on the other hand, is quite happy to help her. He believes that he is a changed man now that Ciara is part of his life. He did not expect this to happen when he rescued her, but now he is a changed man with a new heart, and he's looking to find a way to make himself happier now that he has her in his life. He wants to be there for her, and he wants to be with her. He fully believes she is the only reason he should live and the only reason he is better. This might not be entirely healthy for him to feel this way, but there is very little that anyone can do at this point to make things right in their lives. Will they work together to do this, and how will that make Ciara feel for both of them?
What's Happening on Days of Our Lives
https://twitter.com/nbcdays/status/1050886863723094021?ref_src=twsrc%5Etfw
It's really been that much time since they got together, had that baby, and made their moves on one another? It's impossible for us to believe they've been around this long or that they are old enough for this to even be possible. Can you believe it, either?
What's Next on Days of Our Lives
She's made him believe he can be good again — how could Ben not fall for Ciara? Watch #DAYS, weekdays on NBC. pic.twitter.com/UVbfqiqnam

— Days of our Lives (@nbcdays) October 13, 2018
Hope is still working on the theory that she did not do anything to make Ben look guilty. She's not someone who will fall back from this and allow it to control her life. She's aware that no one believes she did not do this to this young man so that it would become impossible for him to be a part of her daughter's life. However, there is very little we can do other than sit back and allow this situation to continue. We know that she has to prove she didn't do it, and we know that she will find a way to make sure that happens. She's got a lot on her plate right now, and that's big. She's going to have a realization, and she's going to share that with Rafe. But will he believe her?
Will he believe that she had nothing to do with this and that there is nothing she can do to make it any better? Will she have a chance to make things right in her life by going out of her way to make things possible? We know that there is nothing she will stop doing to make sure she's able to get some control over her life and all that's happening, but we also know that she has to change something to make this better. Will anyone believe in her, or will she suffer even more than she has already? We don't know. But she will share with Rafe, and we only hope he believes in her.
Stay tuned for more Days of Our Lives and be sure to check out TVOvermind daily for the latest Days of Our Lives spoilers, news, and updates.
Tell us what's wrong with this post? How could we improve it? :)
Let us improve this post!