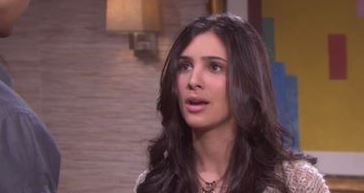 Days of Our Lives fans know just how much Gabi is loving life right now. Her daughter has her father back, even if he's struggling to remember everyone in his life. Things are looking up for her at work, and she's living with exceptional success at the moment. Things are good for her, and she cannot imagine that her life will ever go back to the way it was the prior year when things were so bad. She went through so much with Chad. She fell for him just as his dead wife came back from the dead and interrupted what they had going on.
She lost him several times, lost a chance with Eli because of Abby and Chad, and now she's finally got a chance to get a second change with Eli. They are heating up their own relationship at the moment, and things are looking good for them. They seem to have some serious love going on, and we can't help but wonder just how far they will take things right now. They are in the middle of what could be some good loving, and we are so excited about it.
But that's all about to come to an end for her as she finds out that Lani is pregnant with Eli's baby and that he got her pregnant while he was in the middle of a relationship with Gabi. It's a bad deal for her, and we have a feeling she's going to sink back into her hole again.