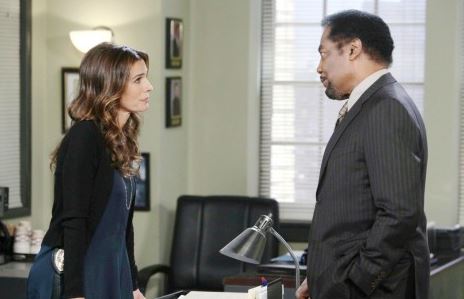 Days of Our Lives fans are not at all surprised to see that the show is not holding back any punches as the holiday weekend has ended and real life is back to normal. The show was on hiatus for four days while everyone enjoyed a lovely weekend of family fun, eating, and shopping, but it's back, and we're going to see Abe go for it. He's the mayor, and he is not holding back any punches. In fact, he's not holding back anything useful at all. He's going into Monday with a bang.
And that bang start with ordering his new commissioner, Hope, to fire JJ. He's not happy about the shooting, naturally, and he want to see his career ended. It was all an accident, and it wasn't supposed to go down this way — but it did. And there is nothing he can do to stop what happened, but he is going to find that Abe wants him fired.
And we might not see things go as he plans. We already know Hope and Rafe see this situation in a different manner, and this might just be the next thing that puts a knife in their relationship. Abe refuses to see things as they are, and that's because his son has been shot. It's understandable, but it's also too personal for him. He has to stop what he's doing and take his time. He won't, but he needs to. And this is not going to be a situation that ends well.