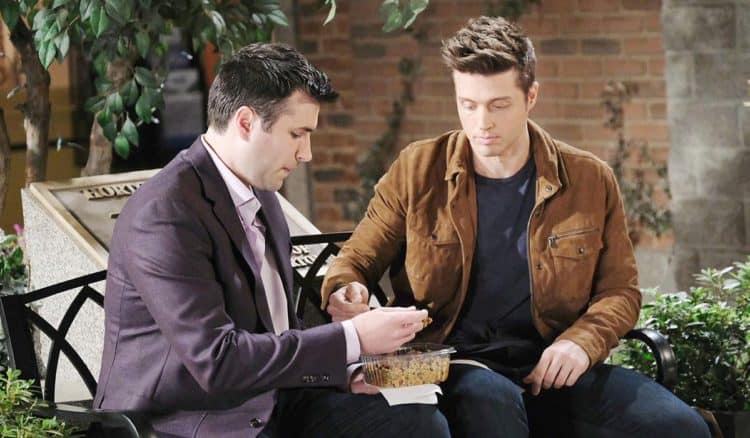 Days of Our Lives fans are not sure how much they will learn in a new week that's too short to actually mean much to us, but we do know that there is so much we can learn in the meantime. We think that there is a chance that we will see Ciara play a game that doesn't work for her, and it might put her in danger after all that happened last week. We also think that there is a chance we can see things happen for Xander as he is in the middle of a few things that might make a difference. Jennifer got some bad news she's not sure how to handle or work with. Eric had a surprise for Nicole that only went and made her feel that much worse about things and the lies she's telling him and the things she's been keeping from him the past year.
Abigail is aware that Gabi is feeding Eli some thoughts that might not be entirely true — or are they? She's not even sure what her own husband is up to now that she's been learning so much about his life and what he's been up to recently. She's not sure she can trust him, and she knows she cannot trust Eli, and there is nothing that will change for her. She's got to figure things out in her own world, but we don't know that she can figure them out without getting herself into some trouble in the meantime. She and Gabi will probably never be friends again, but this is something that they cannot continue to do with one another while they are in the middle of living in the same town. We can see that this short week will bring us more, but probably not quite enough.
What's Happening on Days of Our Lives
ICYMI: Melissa Reeves returns to the podcast to talk about being in the center of the #DAYS time-jump twist and what it's 𝘳𝘦𝘢𝘭𝘭𝘺 like shooting those emotional scenes. Don't miss the latest episode of Inside Salem! https://t.co/9vlZu5XJZ3 pic.twitter.com/hLnBmSQ7XZ

— Days of our Lives (@DaysPeacock) November 18, 2019
This is good stuff.
What's Next on Days of Our Lives
Adrienne is dead, and everyone wants to know what happened and why. Watch #DAYS, weekdays on @NBC. pic.twitter.com/NoVGdunrCu

— Days of our Lives (@nbcdays) November 16, 2019
Mickey's been kidnapped, and Ciara knows who did it. She knows who is behind the disappearance of this sweet little one, and she is going to take this on by herself without any regard to how this might work for her, how it might make people feel, and how it might not work well with other plans she has, either. She is a woman who has a plan, and she has every intention on acting on those plans right now. She's a mess, but she's not going to let anyone hurt this child. She's living her life on the edge, and we think that she's taken a very serious turn into wanting to be her own kind of hero. Maybe more a martyr than a hero, but whatever she's doing is without any regard to her own personal safety.
Chad is not happy with Stefano, and he's not happy that the meeting they had did not go well. They are going to focus on things that are outside his realm of ideas, and he's not happy with that. Things did not go his way, they did not go accordingly, and they probably will not change in the near future. While Chad might be unhappy about all of this, though, he will find a way to work through it and around it so that it doesn't work outside of his long list of ideas on how life should be. He's not taking no for an answer anymore.
Stay tuned for more Days of Our Lives and be sure to check out TVOvermind daily for the latest Days of Our Lives spoilers, news, and updates.