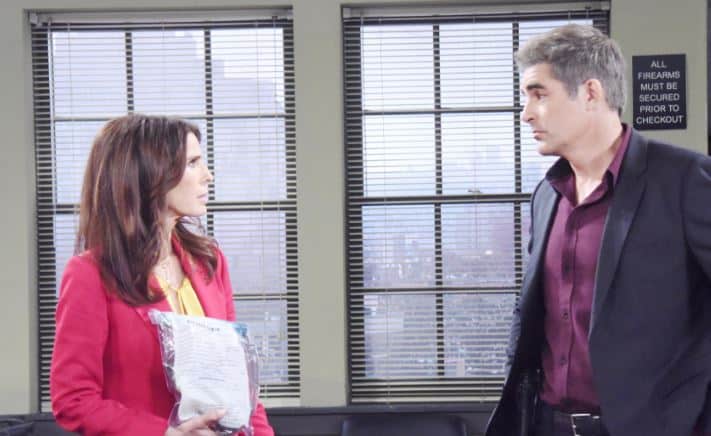 Days of Our Lives fans are ready for a new and exciting week. Last week was such a crazy situation for so many people as things turned upside down for everyone. There was a lot happening that didn't make much sense, and we can't put our fingers on what it was. We know that things didn't work out for John and his family the way they wanted them to work, but they did work. They all began the week assuming Marlena would die as they pulled her off of life support, and she surprised and shocked them all when she did not. She was able to pull through and live. Her directive stated she was not willing to live through any machines or things that gave her life, but pulling the plug actually brought her back to life rather than taking her life.
Her family was shocked when she woke from her coma after being shot on her wedding day, and things took a drastic turn after that point. But what was really affecting them the most was realizing she simply is not the same woman she was before it all happened. She simply didn't make it out of coma without issues such as her personality not really being her personality. Abby is still dealing with Gabi and her antics. She suspects this is the case, but she cannot prove this is happening. We all watched as Gabi drugged her in hopes of turning her into a monster and getting her to feel that she's losing her mind to other personalities again. We think this situation is one of the most interesting and will turn into something that will affect her greatly in the coming weeks. She's onto her, though, so this might not work the way she thought it might work for her.
What's Happening on Days of Our Lives
On her way to stir up some trouble in Salem!

📷: @camilabanus pic.twitter.com/4h2YHxwomR

— Days of our Lives (@DaysPeacock) September 21, 2018
We are loving seeing Gabi in this role of such a bad girl. She's making it so much fun to watch her sit back and enjoy this season of her life, and we are not going to stop loving this until we have no choice. She's a Rockstar in this role, and we are loving watching her as she sneaks around and makes it abundantly clear that she's going to get what she wants.
What's Next on Days of Our Lives
This Fall on #DAYS. pic.twitter.com/YJz17lTwBz

— Days of our Lives (@nbcdays) September 21, 2018
As if Brady's life hasn't been complicated enough lately, he's about to get some news that will upset him more than anything, and it has everything to do with Tate. He will learn some news that has to do with his son, and it will not be good news. He is not going to be happy about this, either. We don't know what it is that he is going to learn, but it will not make him happy. Other things are going to happen that will make him feel uncomfortable with the idea of what is going on with his son, and there's very little anyone can do to make that stop. He's going to face some serious problems that are happening in his life, and he's not sure how to make it happen. He's a mess, and there's very little that he can do.
As far as Eve is concerned, we aren't entirely possible he will get to see her take his side. She's still so upset about him and all the stuff that's going on in their lives, and there's not much she's willing to do right now other than focus on what's good in her own life and how she can improve things. The rest of the week is also going to prove troublesome for Brady as Eric confronts him about something that's been on his own mind for a while. We don't know that he's capable of handling what is about to go down this week.
Stay tuned for more Days of Our Lives and be sure to check out TVOvermind daily for the latest Days of Our Lives spoilers, news, and updates.