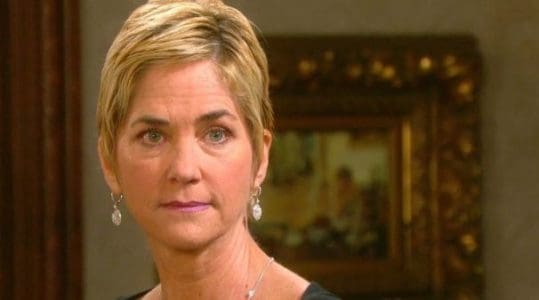 Days of Our Lives fans are going to get a surprise today when things turn around for Eve and her sister. It's not going to be a very happy moment when Eve walks into the room and sees her long-missing sister sharing a very special moment with Brady. She's with him now, even though her sister was once engaged to be married to this man. We all know that Theresa has her own fair share of life issues, but finding her there with her own man is not making Eve very happy. She's shocked to see her sister — and she has no idea what her sister has gone through in the past few weeks — but she will try to be at least a little kind about it (or so we think she will…we could be incorrect about that).
And it's going to be a very interesting situation. We think there is a good chance that she will get her situation under control, but we all know that Theresa will not give her sister the same kindness. There is no way she will be as understanding and kind to her sister that she is in her own mind. She feels that what Eve is doing with Brady is wrong. You don't take the man your sister is supposed to marry, even if you do have your own romantic history with him. She's not thrilled. She might try and hide it for a while, but we know she made a terrible deal with Xander to come back.
No one makes a deal with the devil to come home if they don't have a big plan to see what they want out of life. We can expect to see a lot happen between these two in the weeks to come, and we can certainly expect that very little of what happens for them will be good news or even remotely interesting news. This is certainly not the type of situation she expected to find herself in the middle of after all that's happened, but it's here; and she has to find a way to deal with it.
Tell us what's wrong with this post? How could we improve it? :)
Let us improve this post!