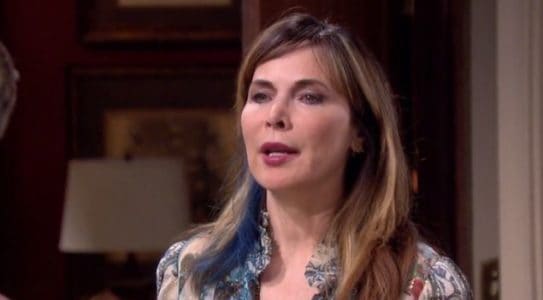 Days of Our Lives fans aren't going to be shocked to hear that Kate has to stand ground and hear what might happen to her now that she's been involved in the death of her nemesis. She's not particularly sorry that she had anything to do with this situation, but she will need to learn what her fate is as she has been accused of helping to take down the elusive Vivian. The woman was no good. She was very bad for business, and she was a jerk. Kate has a lot more to look forward to in her life than just this situation, however, but she's not going to sit back and feel bad about what she did. She feels she did what she had to do in light of what happened to Andre.
When she heard that Vivian knew what happened and she heard the entire sordid tale from her, she knew it was time for her to get her revenge. You see, she took Andre, and Kate cannot allow that to continue. She hates that woman, and she is certainly not sad to see her gone. She will sit back, listen to what might happen to her, and she will deal with it from there. There's no much else she can do about it, really. She's going to accept her fate, handle it, and get her life back on track as quickly as possible. She's got the option to handle this with class, and we know she will.
Kate is not going to let this get to her. She did what she felt that she had to do, and she knows she's got to sit back and take responsibility for that. She's been thinking long and hard about herself and what she thought her future might hold for her, and it's been good for her. She's been able to get her life in order and allow her to get things under control, and that's going to keep her sane when she finds out what her future holds. We think, however, that things might just change of her before long.
Stay tuned for more Days of Our Lives and be sure to check TVOvermind daily for the latest Days of Our Lives spoilers, news, and updates.