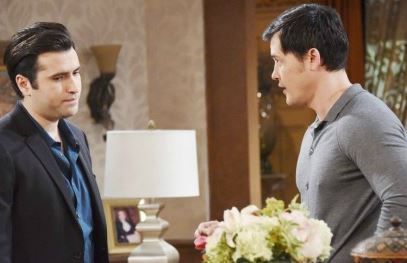 Days of Our Lives fans are going to have a big shocker coming at them this week, and we know it has everything to do with the person who shows up tomorrow for the double wedding. We suspect it might be Will, the man who was once married to Sonny long before he died. But there is another issue here. Whatever the people here learn in this shocked revelation is going to affect many of them, which means it might be someone else. Could it be someone else entirely?
We know there are a few people making a comeback in the coming weeks — EJ and Sami, anyone? And that means there could be more than a few people showing up with some big news. It might have something to do with Will or even a much larger conspiracy. What is going on around here? All we know is that someone is about to rock the worlds of many, and it might be some good stuff.
So we wait and we watch, and we wonder. We know there might be a new Kiriakis in town, which is going to affect Sonny no matter how he wants it to go away. He wants a job with the company in his own right. It's his family, and he wants what he was promised, and it might affect him if someone from the family shows up and makes things more difficult on him. All we know for certain is there might not be much of a wedding this week, which could be awful for all involved.