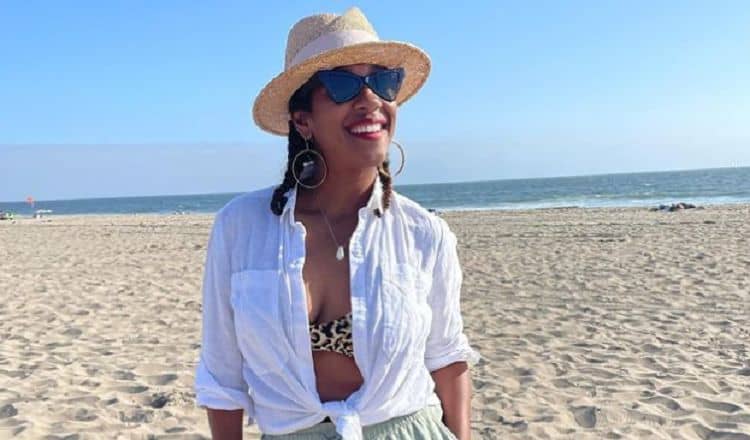 As a trend expert at Etsy, it's safe to say that Dayna Isom Johnson knows a thing or two about style and creativity. On top of that, she has more than a decade of experience working in the industry. Thanks to NBC, she's getting to share her knowledge and passion with the world as a judge on the series Making It. The show, which is now entering into its third season, is a unique competition series that's all about crafting, DIY projects, and overall creativity. Contestants will work to create various projects throughout the season, and their ability to think outside of the box will definitely be put to the test. Continue reading to learn 10 things you didn't know about Dayna Isom Johnson.
1. Her Supervisor Recommended Her For Making It
There aren't many people out there who can say their boss is responsible for turning them into reality TV stars, but Dayna can. She told Dumbo, "NBC was coming out with this show, which sounded crafting and creativity, and the producers got in contact with Etsy to see if they could recommend anyone to be on it. My supervisor at the time mentioned me. The NBC folks saw that I'd been on the TODAY SHOW, and had done some other relevant work, so they asked me to submit a video, just like everybody else. I wasn't a hand-selected–I had to work for it!"
2. She Studied Fashion
Dayna's love for style and fashion started at a very early age. By the time she was a teenager, she knew she wanted her career to be something involving fashion. She went on to study at the Fashion Institute of Technology in New York where she earned a bachelor's degree in fashion merchandising management.
3. She Loves To Travel
Most creative people will tell you that traveling is one of the best ways to get inspired. Luckily for Dayna, she is in a position that has allowed her to do lots of traveling over the years. She loves getting to explore and experience new places here in the United States and in other countries.
4. She's Happily Married
Dayna hasn't just found her dream job, she's also found her dream man. She is happily married to a man named Ryan Johnson who is an actor. His most notable credit to date was in an episode of The Closer. The couple doesn't appear to have any children, but they are very proud pet parents.
5. She's A Foodie
Food has the power to bring people together in ways nothing else can, and that's something Dayna has always appreciated. Dayna loved trying different kinds of foods, and cooking gives her another way to express her creative side. She has an extra special place in her heart for donuts.
6. Making It Isn't Her Only On TV
Making It is what Dayna is best known for in the TV world, but it's not the only time she's graced our screens with her presence. She has made several TV appearances in the last few years on shows such as Good Morning America Weekend Edition and The Drew Barrymore Show.
7. She's From Virginia
Dayna is originally from a small county in Virginia called Louisa. While it might not be as fashion-forward as big cities, it's the place where Dayna fell in love with style and creativity. She credits her parents with introducing her to different style techniques at an early age.
8. She Likes To Exercise
Staying active is something that is important to Dayna. Not only is regular exercise one of the biggest keys to staying in good shape, but it also has important mental health benefits. Plus, working out helps Dayna feel a little bit better about eating an extra donut here and there.
9. She Has Some Helpful Advice
At this point in her career, Dayna has been doing her thing long enough to know what it takes to make it. When asked if she had any advice for others, she told MarthaStewart.com, "My biggest piece of advice for anyone who wants to pursue a similar career as mine or any job for that matter, is to speak up for what you're passionate about—even if that role doesn't exist. If I hadn't spoken up, I never would have landed my dream job."
10. She Loves Watching TV
Just because Dayna spends a lot of time on TV, doesn't mean she can't enjoy watching it as well. When Dayna and her husband get some downtime, watching TV together is one of their favorite things to do. Like most people these days, they really love to binge-watch a good show.