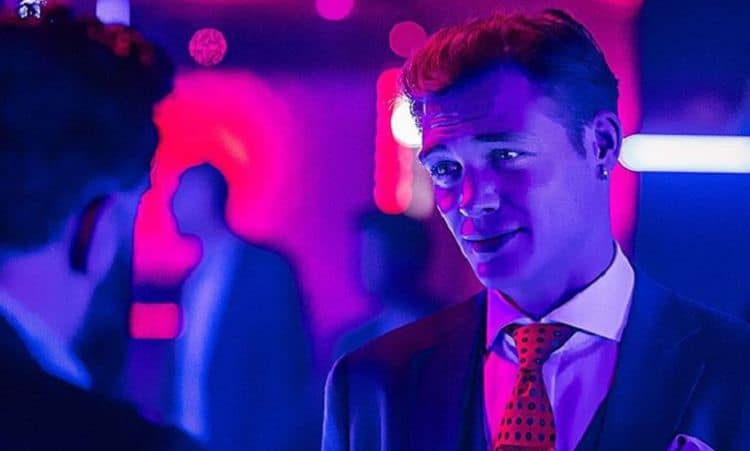 Every actor's dream is to have their work seen by as many people as possible, and David Schütter is getting the chance to watch his dream come true right before his eyes. Since making his on screen debut in 2010, David has been grinding towardsz bigger opportunities. He finally got a big break when he was cast in the new Netflix series, Barbarians. Not only did the show give him the chance to play a different type of character than he has in the past, but it's also provided him with the platform to share his talent with a huge international audience. As the show continues to gain popularity, we have a good feeling new opportunities will start pouring in for David. Keep reading for 10 things you didn't know about David Schütter.
1. He's A Formally Trained Actor
Become a professional actor was David's dream for many years, and he worked hard to put himself on a path for success. For David, that path included a formal acting education. He received acting training at School for Drama Hamburg where he studied from 2009 to 2012.
2. His Grandfather Was An Actor
David isn't the first person in his family to find success in the entertainment industry. His grandfather was well-known German actor, Friedrich Schuetter. Friedrich also had a career as a director and a voice actor who participated in several radio plays. Sadly, he passed away in 1995.
3. He Learned A Lot About History While Filming Barbarians
Not only was Barbarians a great opportunity for David's career, it was also a cool way for him to get a history lesson. During filming, David learned a lot of interesting things about the Barbarians that he wasn't aware of before he started filming for the show.
4. He's An Advocate For Women's Rights
David isn't the most active social media user, but he has made it clear where he stands on on the topic of women's rights. In October 2020, he shared a post on Instagram that showed in image of a pink button that read "stop telling women what to do with their bodies."
5. He's An Award Winner
He may be early in his career, but David is already getting some recognition for his talent in hard work. In 2014, he won the Michael Ballhaus Prize award at the First Steps Award. The following year, he won the Studio Hamburg Young Talent Award. His most recent award was a 2017 Günter Strack TV Prize for his role in the German film Strawberry Bubblegums.
6. He's Very Hard On Himself
Watching himself on screen isn't always easy for David because he can be very critical of his performances. During an interview with Berlin 030 he said, "I am very critical of myself. When I see a film, the shooting was already a year ago and in the meantime I've learned a lot again and discover a lot of old mistakes. So I don't really like to see myself on screen."
7. He's A Model
David is a natural in front of the camera and that translates to taking pictures as well. He is also a model who has worked with Levi's to promote their jeans. When it comes to working with the Jean giant, David is in good company. Dozens of other celebrities have modeled for Levi's including Brad Pitt.
8. Waiting Is His Least Favorite Thing About Being An Actor
Working as an actor may seem like a fun and glamorous job, but the amount of work and patience that goes in behind the scenes is enough to make lots of people quit. For David, the waiting is the worst part about the job. He considers himself to be an impatient person and he doesn't like the feeling of waiting for auditions or waiting to hear back about auditions he's already gone on.
9. He Has Been Compared To James Dean
Throughout his career, there have been lots of people who have compared David to the legendary James Dean. When asked about his feelings on the comparisons David told Berlin030, "Everyone likes to hear compliments. But when I think about it I come to the conclusion that I would rather be an original than a copy. So I'd rather be the first of my kind than the second of another."
10. He Likes His Privacy
David has been enjoying all of the attention his recent opportunities have gotten him, but at the same time, he hopes that this doesn't come at the expensive of his privacy. Like lots of other celebrities, David enjoys being able to separate his work life from his personal life.
Tell us what's wrong with this post? How could we improve it? :)
Let us improve this post!