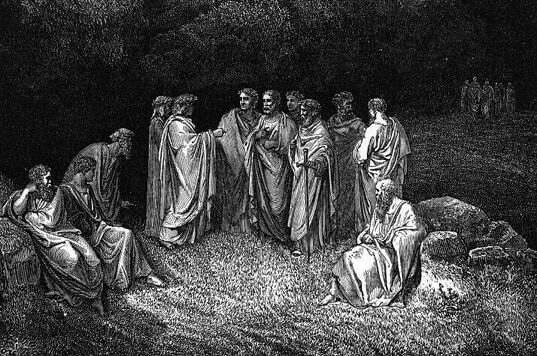 Bethany Guerrero of ScreenRant details just how Dante's Inferno, one of a three-part poem from the 14th century, will be coming to Freeform eventually and will detail one of the most intriguing journeys in this epic saga that was laid down so long ago. One thing that's obvious is that given that this is Freeform the content won't be as graphic as Dante Aligheri was thinking about back in his day and it will be carefully edited for TV, which means that some folks might take a hard pass on it simply because the story of Inferno is the trip through hell that is meant to be as horrifying as possible to detail just what it means to pay for your sins in a number of different and gruesome ways. The adaptation of this poem will feature a main protagonist named Grace, what a clever name, that is beset on all sides by misfortune until one day she finds that everything she wishes for and wants is coming true. Unfortunately the downside to this is that eventually she figures out that her good fortune is being provide by none other than the lord of darkness. At this point she finds it necessary to take a trip into hell to try and try the devil and gain her life back, for better or worse. That sounds like quite the story line, and it's interesting that not only is the main character a woman, but that it's likely that a man will be the cause of her problems. Cue the eye roll since like it or not, we're still seeing gender politics and continuing lessons within the shows that we want to watch.
On the whole it does sound like an intriguing idea. I can recall reading the Divine Comedy in high school and enjoying it, especially Inferno and Purgatorio since both of them seemed a little more realistic and of course there was more drama to them than there was to Paradiso. Hell, which is basically what Inferno represents, is one of the oldest elements in many movies and has been utilized many upon many times. Dante's fiction has even been responsible for the inspiration of many shows and movies throughout the years. If you've ever heard someone say that something or other resembles another level of hell then it's likely they're making an off-handed reference to Inferno. The Divine Comedy has been such a huge influence to humanity that it's been used by those that know the poem quite well and those that have only heard of it in passing but have still referenced it all the same. Making a TV show out of it is a very logical step but hopefully whatever comes of it will be free of as much gender politics as already seems to be looming on the horizon, as it could be a great story if told in a manner that doesn't paint men or women in a light that speaks to the many debates and arguments that have been widely heard over the past several years.
The only downfall I can see thus far in this series is that it's likely to downplay quite a bit of what's to come. Whether the show will go with Dante's rather dim and dismal, dark representation or if it will somehow update the many levels of hell for the current day is yet to be seen. But considering that Dante wrote of a seriously messed-up place in Hell that was anything but conducive to a TV station that isn't allowed to get down and dirty like HBO or other networks it does seem as though Freeform might nice things up in a big way so as to make it more palatable to a different audience. The issue with this is that Inferno is, as Dante writes, a rather terrible place where sinners are meant to suffer horribly and according to what they've done in the world. The various punishments written of are nothing short of atrocious and blood-curdling, as this is hell afterwards and things aren't going to be as nice and playful as they've been depicted in several movies and shows in the past. Think of the worst place you can conceive of, a location where your every nightmare becomes a reality and then, somehow, gets continuously worse as your own thoughts and perceptions are drawn forth in order to fashion new nightmares, new terrors, and new torments that won't let go because hell is a personal place and knows just how to get to each individual in the best way to drive them mad. That's Inferno, and hopefully Freeform will do something that will make it worth watching, since out of the many great stories that have come from humanity, this is one that has a great deal of potential. Lesley Goldberg of The Hollywood Reporter has more to say on this matter.