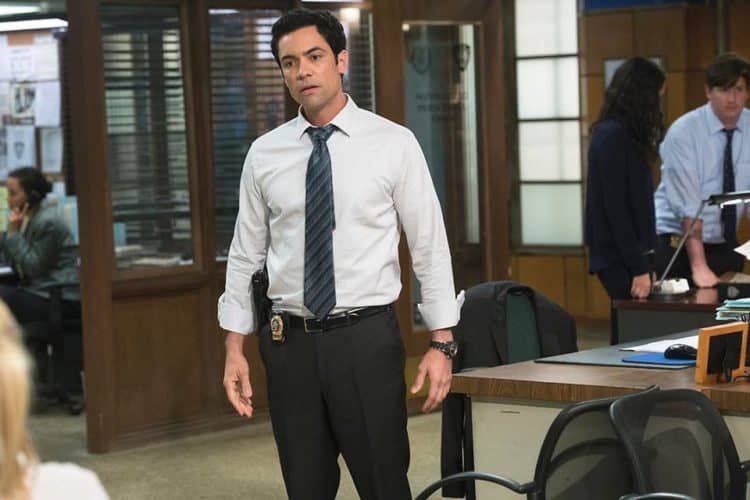 Danny Pino is another actor that can turn on the charm when he wants and is also the kind of guy that a lot of people wonder about when it's seen that he's not dominating the screen as he probably could. There are many reasons why this could be so but most among them seem to point to the fact that while he's good on the small screen there's not a lot of development yet on the big screen that says he can take over a movie on his own. There are those that are destined to be great on TV and not many other places largely because it's where they shine and where the competition is still fierce but is played in the long-term rather than in the appearance one gives for a single movie. At this time Danny's fame is best tied to the TV appearances he makes since this is where his game is the strongest.
Here's a few things you might not have known about him.
10. His career started in 2001.
He's not exactly an old hand at acting even though people might think he is. Danny came in with one of the early generations of the 2000's actors that started out during the beginning of the century and are at this point maturing or fully matured into standout actors.
9. He was in Law & Order: SVU.
Nick Amaro was kind of like the new Elliott Stabler since he could be cool, calm, and collected, but he could also fly off the handle at a moment's notice and be far too difficult to hang around. Unlike Stabler however he kept a cooler head a good deal of the time.
This is where his aggressive tendencies will get to play out a lot more, but it will also be a show where he's allowed to remain calm and cool since he has to be the boss and not just let his emotions take over that often. Unlike the role of Nick he has to be smooth and undeniably dangerous in this show.
7. He's played the same character on two different shows.
He got to play the role of Nick Amaro on Law & Order: SVU and Chicago P.D. There are those that think that he left SVU in order to go to Chicago P.D. where he could be a much more relevant character without as many limitations.
6. His net worth is around $1 million.
It's been said to be upwards of $3 million as well but it's hard to know which one is right since so many different publications say different things. It's just enough to know that he's worth a good chunk of money.
5. He's 44 years old.
Being born in 1974 it might be difficult for some people to think why Danny hasn't done more with his career, but not everyone starts off as a child actor and it seems that he wanted to get his education out of the way before becoming an actor.
4. His ancestry is Cuban.
Some people have assumed that he's Mexican but despite his looks and his heritage he is American with strong Cuban roots. He does speak Spanish but he was born and raised in the USA and will likely tell anyone that makes any assumptions.
3. He's been nominated for awards several times.
His acting talent and his contributions haven't gone unnoticed since he has been nominated several times and has even won the Imagen award twice. He's definitely deserving of praise since he puts everything he has into a role and makes it his own.
2. There wasn't a lot of explanation why he left Law & Order.
The character had a good ending to his story but Danny didn't give a lot of reason for leaving the show. Whether it was because he thought he could do better elsewhere or the dynamic just wasn't working is hard to know.
1. He majored in Theater while in college.
It seems a lot more actors are getting in theater studies before they graduate and it seems like the right move since you wouldn't go into a career without knowing at least something about what you're doing and studying every possible aspect of it.
Danny seems like one of the many actors that might have a long future ahead of him in acting if he picks the roles that are best suited for him and allow that natural charm and aggressive streak that he's so good at displaying to come out. Despite being older than some of those that got their start around the same time that he did it seems that he could be one of those distinguished men that might serve as a great support/mentor for others or a rising star that could top a cast and be close to leading man material.
Tell us what's wrong with this post? How could we improve it? :)
Let us improve this post!