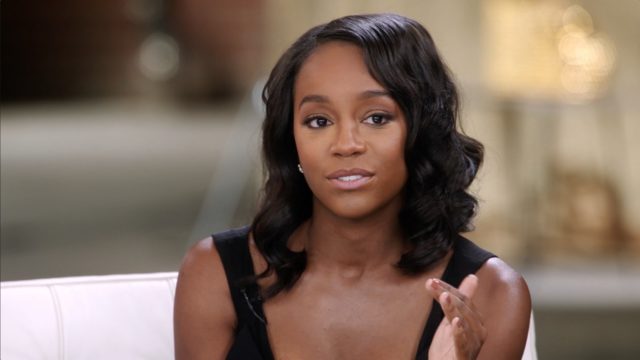 Aja Naomi King is an actress who was born in Los Angeles on January 11, 1985. She launched her career as an actress in 2010 and initially played guest roles on television series. Her big break came in 2014 when she landed the role of Michaela Pratt in 'How to Get Away with Murder', a legal drama series aired on ABC. Other series in which she has had roles include the CBS procedurals 'Person of Interest' and 'Blue Bloods'. Most recently, she played the part of Cherry Turner in the 2016 historical movie 'The Birth of a Nation'. Here are five more things that you probably don't know about Aja Naomi King.
1. She Was in the Cancelled Series 'Emily Owens, M.D.'
King's first major television role was Cassandra Kopelson in the medical comedy-drama 'Emily Owens, M.D.'. Her character was the primary protagonist on this television series.This series was created by Jennie Snyder Urman and premiered on The CW on October 16, 2012. However, King was disappointed when the show was canceled by The CW after just one season. The final episode aired on February 5, 2013.
2. She is an Award-Winner
Her skills and talents as an actress have been recognized because Naomi Aja King has already won an award. In February 2017, she received the 'Rising Star Award'. This was at the 10th annual Essence Black Women in Hollywood event.
3. She Has a Master's Degree
King is an intelligent woman who has received a Master's degree. She studied first at the University of California at Santa Barbara where she received a Bachelor of Fine Arts in Acting. She then decided to further her studies and attended Yale University's School of Drama. She received her Master of Fine Arts in 2010. While she was studying at Yale University, she took part in many of their productions. These included 'Little Shop of Horrors' and 'A Midsummer Night's Dream'. This gave her plenty of experience to launch her career as an actress.
4. She Has a Role in 'The Upside'
Aja Naomi King landed the role of Latrice in the 2017 movie 'The Upside'. This comedy-drama is written by Jon Hartmere and directed by Neil Burger. It is a remake of the 2011 French movie 'The Intouchables' and also stars Bryan Cranston, Kevin, Hart, Nicole Kidman, and Amara Karan. It is about the relationship that develops between an unemployed ex-criminal and the wealthy paraplegic he is hired to help. Although it premiered at the 2017 Toronto International Film Festival, it is not set for release in the United States until March 9, 2018.
5. She Worries About Not Getting Roles
King has talked in interviews of her fear of not getting work. She says that as a young Black actress, she doesn't see many Black women getting leading roles. This concerns her with regards to her future acting career as she is worried that it is unlikely she will ever get the type of roles that will make her a big success in the television and film industries. Despite her fears, Aja Naomi King is currently enjoying a relatively successful career as an actress.
Save