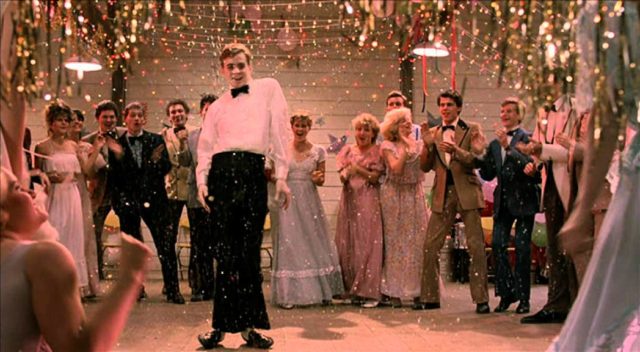 Ah the 80's. A time of dancing, a time of music, and a time of wondering if that person on the dance floor was having a seizure or just making up the moves as they went. Seriously though there was a LOT of movement in the 80's when it came to dancing. The time of line-dancing and energetic choreography hadn't yet run its course and despite what you might say about dancing now it's just not the same. I could easily argue up and down the block a few times with anyone that thinks dance moves are in any way the same thing as they were back in the 80's.
For one the tracks were so over the top that you felt your ear drums thumping before you ever set foot on the dance floor and you could swear every bone in your body was rattling along to the rhythm as well. The 80's were a time to dance when you just wanted to cut loose and use whatever dance move was in your arsenal, even if it didn't make any particular sense to do so. The films of the 80's were so up on dance that you could hardly go to the theater without seeing someone break out in some kind of dance move.
In some ways the 80's just made people want to stand up and get down and not care about who was watching. Then came the 90's and all of sudden you almost had to be a professional dancer just to enjoy yourself without being ridiculed about your spastic moves. It's gotten even worse as the 2000's and the 2010's have rolled on simply because the act of shaming people for virtually anything has made it all but impossible to do anything in this world without someone deciding to Snapchat, Instagram, or Facebook a video of someone just having a good time in an effort to make them look like a fool.
Back in the 80's if you got on the dance floor and started having a good time that's all that was needed. So long as you didn't step on your partners feet or completely spaz out then you were just one of many people on the dance floor having a good time. The music and the moves might have been a little odd at times but they were a lot more pure than they are now simply because people were allowed to enjoy themselves and have fun without any fear that they'd be ostracized for the simple fact that they can't really dance, but were trying.
That didn't matter back then. If you came up with your own moves and they looked good then people would at least laugh and have a good time alongside you, not laugh and point and post a meme that would go viral. As tumultuous as the 80's were for so many things the one thing they had that was so great was the dancing. It was free, it was fun, and allowed people to be themselves far more often than it does now.
https://www.youtube.com/watch?v=uAipi4V5g34
Save