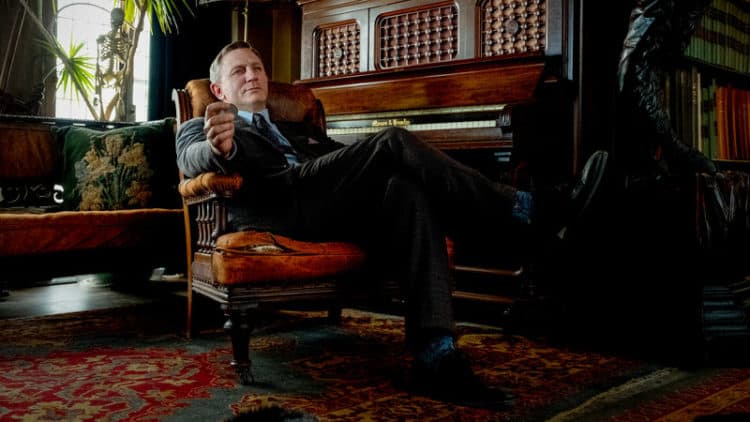 Daniel Craig is the most relaxed he's been in years as Benoit Blanc, the sneaky Southern sleuth and Knives Out star tasked with uncovering the murderer of a privileged family's patriarch. And with his time as James Bond almost definitely over with the conclusion of No Time To Die this year, he potentially has a new franchise on his hands. As The Hollywood Reporter reports, Rian Johnson is already making a sequel to the smash hit, which grossed a whopping $215 million off a mere $40 million budget.

The follow-up will feature the famed private detective stumbling on his next case, following the fine footsteps of classic cinematic sleuths such as Nick and Nora Charles, Philip Marlowe and, of course, Hercule Poirot. But where will we find him next? Having already tackled the Big House Detective plot, often a staple of the genre, Benoit will almost be flung to further, more exotic locales, giving Craig the opportunity to really enjoy himself in a more comic and dynamic role than he's used to. We have a few ideas for future Benoit exploits.

1. Murder on a Train

As seen in: Murder on the Orient Express
James Bond has always been a fan of train travel, especially in the Craig movies. In Casino Royale, Bond meets Vesper on a Pendolino to Montenegro, and jets across Morocco on the Oriental Desert Express in Spectre. Therefore, it seems like a natural progression for a Knives Out sequel starring Daniel Craig to take place during a long train journey. Train journeys are perfect for mystery as they force disparate characters, all travelling for different reasons, to be thrust together under unique circumstances.
A quintessential template for this could be Murder on The Orient Express, recently adapted for the screen by Kenneth Branagh. While Branagh's version couldn't quite take off, a Rian Johnson reimagining of the concept – a murder takes place on a train and all the passengers on one car are potentially culpable – could be an even bigger hit, especially considering Craig's previous cinematic affinity with travelling by train.
2. An English Village Mystery
As seen in: The Murder of Roger Ackroyd
Despite their relatively low population, Sleepy English villages seem to have a remarkably high murder rate. A quintessential staple of TV murder mystery shows, especially Foyle's War, Midsummer Murders and Inspector Morse, the close-knit nature of these towns fills them with suspicion, long-held rivalries and constant double-guessing.
They were popularised by Agatha Christie, the Queen of Crime herself. Her most famous Village mystery has to be The Murder of Roger Ackroyd, a masterpiece of perspective and double-guessing with one of the most famous twists of all time. While Knives Out can't quite get to Christie's level, it shares a similar obsession with the power of storytelling itself, making an English Village Mystery perhaps a natural next step for the franchise. There would also be a double irony in having an English man turn up to England with a Southern accent; perhaps all the suspects should be Americans with English accents!
3. Passion on the Amalfi Coast

As seen in: The Talented Mister Ripley
Elegance, heat and glamour: the Amalfi Coast has it all. Quite the contrast from the Gothic Thrombey Estate, this stretch of Coastline facing the Tyrrhenian Sea has laid host to brilliant films such as Beat The Devil, Under The Tuscan Sun and Avanti. Yet sunlight can erase dark secrets, as seen in Anthony Minghella's classic The Talented Mister Ripley.
Benoit would be a natural fit here. We already know that Craig looks impossibly dapper amongst the Mediterranean Sea from his stint as Bond. Imagine that aesthetic again, but this time he's let free amongst the blazing sun as opposed to existing within the constraints of an over-produced spy film. Craig would excel here amongst tiny piazzas, winding dusty roads and sheer cliff-faces. Additionally, given that both Mister Ripley and even Bond himself teem with homoerotic energy, playing into Craig's sexiness as a male lead amongst other men could be something interesting to explore here.
4. The Cold War Chiller
As seen in: The Spy Who Came in From The Cold
With de-aging technology where it is these days, there's no reason why Daniel Craig can't roll back the years and star in a Cold War-era Knives Out prequel. Whether it's the sewers of Vienna or the harsh walls dividing Berlin, the Cold War era still sways large in the popular imagination. The famous Blanc comes with years and years of history – perhaps it lies behind the Iron Curtain…
With mystery and spy thrillers so closely linked together, Beniot Blanc could easily fit into a complicated web of international intrigue. A classic template could be the books of John Le Carré, especially the Smiley novels The Spy Who Came in From The Cold and Tinker Tailor Soldier Spy. They are well-renowned for their intense narrative complexity, a welcome challenge for Rian Johnson whose Knives Out and Brick are triumphs of dense, loaded scriptwriting filled with subtle clues, red herrings and brilliant set ups and pay offs.

5. The Trade Union Travesty
As seen in: The Irishman
As The Irishman has proved, there is a huge appetite for stories told about the dissolution of Trade Unions and those who were murdered because of, or despite of, what they believed in. Given that Knives Out criticised America's view of itself, especially in relation to how it treats foreigners, a Trade Union drama could further interrogate the basis upon which the nation is made.
Benoit could easily fit around the hardened Steel Factories of Pittsburgh or the Docks of Long Island, talking to grizzled Irish and Italian Americans hiding shady secrets. Given that these types are known for keeping their mouths shut, it would be an interesting challenge for Johnson, whose Knives Out characters are more than happy to talk their heads off. It would further stress Blanc's fish-out-of-water nature, the manner of the tale forcing him to take a moral position upon the situation. Given his natural affinity for the Latino protagonist of Knives Out, we could once again have Blanc on the side on the poor and downtrodden, making him a true American indeed!
Tell us what's wrong with this post? How could we improve it? :)
Let us improve this post!