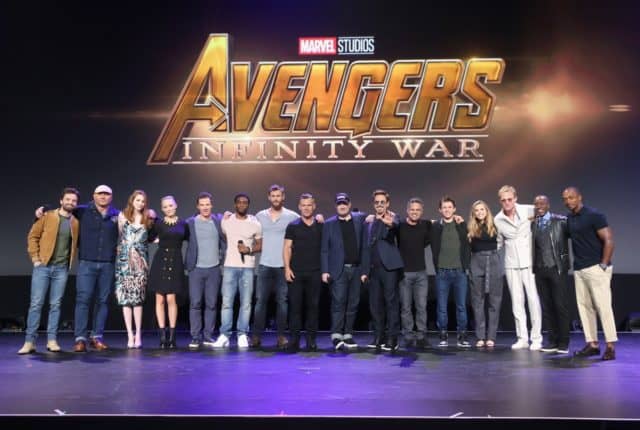 D23 Disney fan convention wrapped this past Sunday covering Disney's film studios along with theme parks. Much of the most exciting news for Marvel Studios / Avengers fans came from conversations among the cast and producers of Avengers: Infinity War. Great chemistry reported between Spider-Man and Doctor Strange, or at least the actors who portray them. War Machine returns to action. Co-director Joe Russo promises an Infinity War trailer teaser.
In an interview on ABC-TV's Good Morning America posted to Youtube by Jilly Wu, Tom Holland (Peter Parker/Spider-Man) and Benedict Cumberbatch (Doctor Strange) demonstrated clear and obvious chemistry between themselves. At one point in the interview Anthony Mackie (Falcon) walks into the frame and whispers to Mr Cumberbatch. None of the actors revealed anything significant about the plot or story. They did, however, gush about the quality of the footage showed and the expansiveness of the Marvel Cinematic Universe. And, if the actors get along this well, it should be a joy to watch their characters riff off of each other on the silver screen.
Elsewhere, Don Cheadle may have promised that War Machine (Col James Rhodes) returns to fighting form:
"But when you have somebody like Tony [Stark], who is a master of tech and can create things that can get you over the hump, then you can walk again…it's an augmentation…it's semi-bionic. I'm like Lee Majors, but twice. I'm like the Twelve Million Dollar Man – Sixty Million Dollar Man, probably by 2018, with inflation."

–Don Cheadle on Good Morning America as reported by LRM
Perhaps this quote alone doesn't do it. But when you put that together with Mr Cheadle's remarks with Mark Ruffalo to IMDb, that the two of them "take over the movie," we may have something. So, we have a bionic augmented Rhodey who along with Bruce Banner/Hulk "takes over the movie." This could be exaggeration. It could be truly how the two actors felt working together for some scenes. Or it could mean that indeed with a personal bionic upgrade from Tony Stark himself, Col Rhodes walks and fights again.
And finally, when asked about when anyone other than the cast and a few dozen journalists (who saw the Infinity War footage and gave it huge applause and cheers), co-director Joe Russo would only say, "soon." On Good Morning America video posted by YouTuber Thanos, Joe Russo talked about how hard they were working. The interviewer asks, if that means "days, weeks, or months." All Joe Russo would say was "soon." Apparently there was some exclusive footage shown to just journalists and castmembers, that bloggers and general public were excluded from. Several bloggers and Youtube-ers have practically begged Kevin Feige and Marvel Studios to release the footage. We'll all have to wait and see.
Save