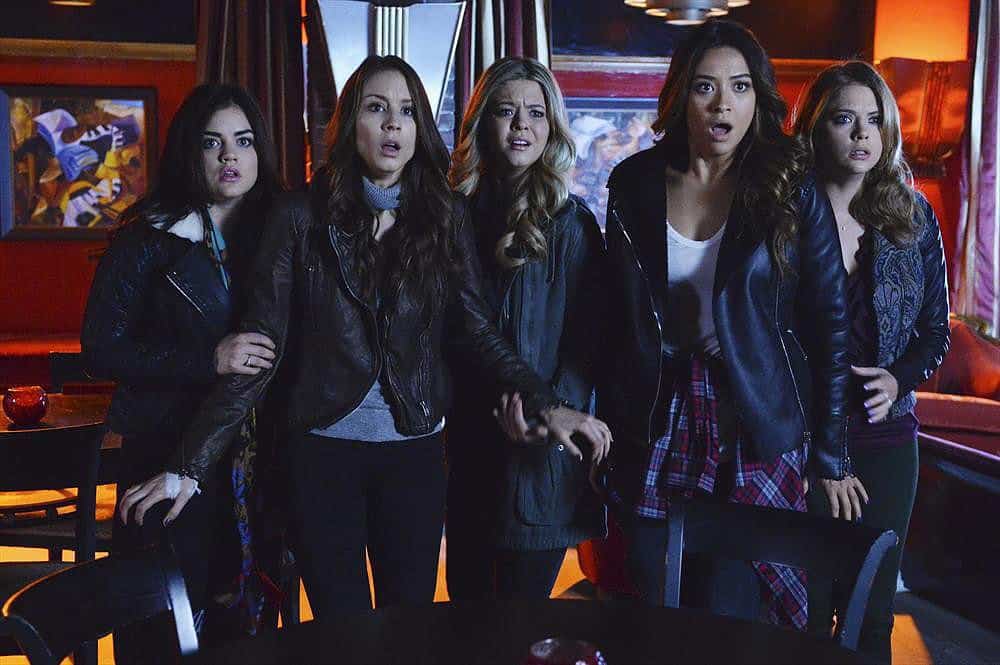 Fans of the ABC Family drama thriller Pretty Little Liars received some startling news this week. Actress Lucy Hale, who play Aria Montgomery, revealed that the 7th season of the hit show will be the last. The show is currently in its fifth season which will conclude in early 2015, so that does give die hard fans two more years to watch the antics of Spencer, Aria, and the rest of the gang. The seventh season of the show will conclude in late 2016 or early 2017. There has been rumors floating around that there could potentially be a Pretty Little Liars movie. Though ABC Family has not confirmed this to be true, Hale stated in an interview that there, "might be a movie." Other hit TV shows like The X-Files and Sex and the City have made movies (2 each) so why not Pretty Little Liars? We at TV Overmind know that fans of Pretty Little Liars are die-hards. They watch the show live every week and use social media and fan sites to discuss the latest relationships and twists that occur. We decided to visit these sites and find the most outrageous fan-fiction, facts, or episode guides devoted to the show. Who knows, maybe we found something on your Pretty Little Liars wiki?
Pretty Little Liars Fan-fiction
There are thousands upon thousands of Pretty Little Liars wikis devoted to fan-fiction. It would take someone months or maybe years to sift through all the stories devoted fans have created based on their favorite characters on the series. One story I found was circling around the relationship of Spencer and Emily. The two have become more than best friends and are now living together and have children of their own. Another story involved all the girls and their first year at Hogwarts: School of Witchcraft and Wizardry. It does not appear that any of the Harry Potter characters are a part of the fan-fiction though.
There is also adult-oriented fan-fiction Pretty Little Liar wikis. Many of the stories that I looked at involved storylines that are too tantalizing to mention here. The most used characters in there types of stories are Spencer and Toby or Aria and Ezra. I did discover a new term while researching Pretty Little Liar wiki. The term "lemon" is used to describe these adult storylines. So, if this is something that does not interest you, you can skip over that fan-fiction when you see the word lemon in the description.
Best Pretty Little Liars wiki for Fan-Fiction: https://www.fanfiction.net/tv/Pretty-Little-Liars/
Spoilers
Many TV fans cannot wait an entire week to find out what is going to happen next on their favorite shows. Thankfully for those people, websites have shared spoilers about plot lines and future castings of upcoming episodes. There are multiple Pretty Little Liars wiki sites devoted to spoilers. I was able to find out the following facts (Do not read these bullet points, if you don't want to be surprised):
"A" will be revealed before the 7th season of Pretty Little Liars
Alison could possibly be pretending to be her twin sister Bethany, or the person we thought was Alison all along was actually Bethany.
Lauren Tom has been cast as a lawyer that will be dealing with the liars and Oliver Kieran Jones will play Colin a charming man who comes into contact with Spencer.
Julian Morris could return as Wren. He was most recently seen on New Girl.
There were multiple sneak peaks of the Halloween and Christmas episodes of season 5
Best Pretty Little Liars wiki for Spoilers: http://www.spoilersguide.com/pretty-little-liars/
Fan Art
When fans are going through withdrawals once their favorite show goes on haitus, they must think of ways to pass the time. Some may focus on a watching a new show or some may venture outside and enjoy some fresh air. Pretty Little Liars' fans will create their own fan art and share them on many of the drama's wiki sites. So what exactly is fan art? Fan art is visual media such as comics, movies, drawing, poems, or songs about a pop culture icon.
I uncovered a piece of fan art that gave Pretty Little Liars viewers 10 ideas to survive the show's hiatus. The author suggested fan learn how to bake a cake to coincide with how Ezra Fitz eats birthday cake. Another tip was to learn to perfect your strut so you can walk down the hallways at school and look as good as the liars. The two most useful tips were to get healthy so fans can outrun psychos like the liars do constantly and to study more to be a scholar like Spencer.
You can visit YouTube to see videos fans have put together with their favorite scenes from the show with their favorite songs playing in the background. Some fans even wrote their own songs about Pretty Little Liars. You can even see fans reactions to episodes that they are watching for the first time. There is lots of screaming involved, so be prepared. A fan even created a video about all the theories they have about the show.
Best Pretty Little Liars wiki for Fan Art: http://www.pinterest.com/PrettyLittleLiars/
Episode Guides, Character Bios, and Fun Facts
There are even Pretty Little Liars wikis that provide factual information to fans. Internet Movie Database is a good site to read brief snippets of what a past episode was about. However, there are wiki sites that provide lengthy reviews of each episode and can even give fun facts that you may not have known took place. For instance, did you know that Alexis Denisoff, who starred on Buffy the Vampire Slayer and Angel, was featured in the unaired pilot of the show? He was later replaced by Chad Lowe. Or how about that Ian Harding was featured in a total of 18 episodes out of the 24 more made during season three? Or even that the table read for the 100th episode that aired on July 8, 2014 took place on April 28th and filming began on the 30th? All of this fascinating information is just a click away on the net.
Best Pretty Little Liars wiki for Episode Guides, Character Bios, and Fun Facts: http://pretty-little-liars.wikia.com/wiki/Main_Page
What is your favorite Pretty Little Liars wiki? Tell us in the comments below.
Photo By: ABC Family