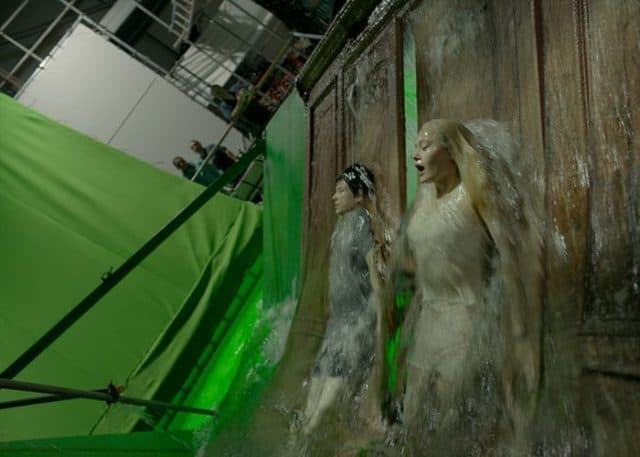 If you've seen Miss Peregrine's Home for Peculiar Children at this point you know what it's about and you know that the kids are, well, different. Their differences can be alarming or they can be seen as beneficial in some way, but they all have abilities that set them apart from other people. One boy can exhale bees, another is invisible. There is a little girl with a monstrous, tooth-lined maw in the back of her neck, and another girl can use her gift of air to displace the water in a sunken ship. All these abilities are astounding in their own way, but the special effects needed to create them is simply amazing. Green screens were used for a good portion of the film and CGI effects were used extensively as well. This gave the film the kind of effect that audiences were amazed by as the children's many different abilities were showcased in such a unique and wonderful way.
Here are just a few pictures that show what went into making this film.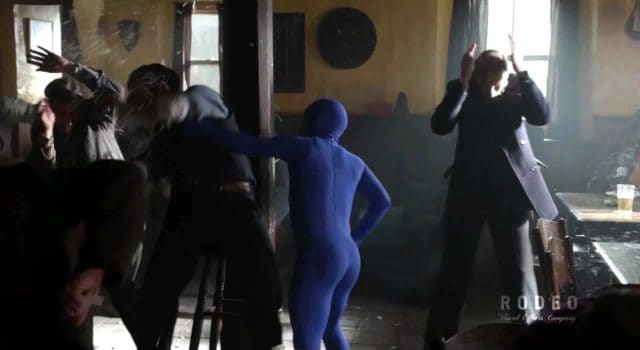 Cameron King played the role of Millard Nullings, the invisible boy that could only be seen when he wore clothing. In this scene he's causing a bit of mayhem in the local pub but is really more of a playful sort than any real threat. He's perhaps one of the most peculiar children in that he has absolutely no shame and is uniquely helpful in his own way. Of course when you can be seen there's nothing really to be ashamed about.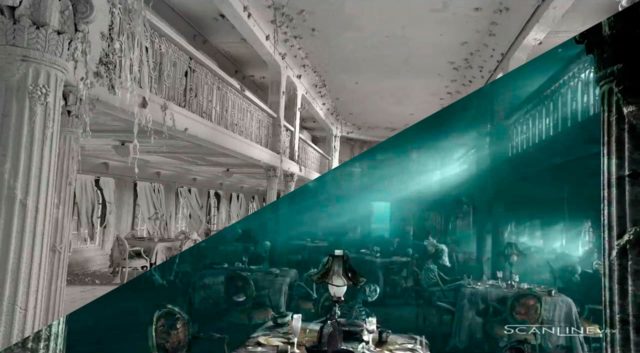 The ship that Olive shows to Jacob is very impressive on its own but is almost completely CGI. Despite this the rendering is done so well that you can easily believe that these two are exploring an undersea wreck that Olive uses as her private place. Such visuals within a film tend to give it a sense of mystery and otherworldly essence that simply astounds an audience.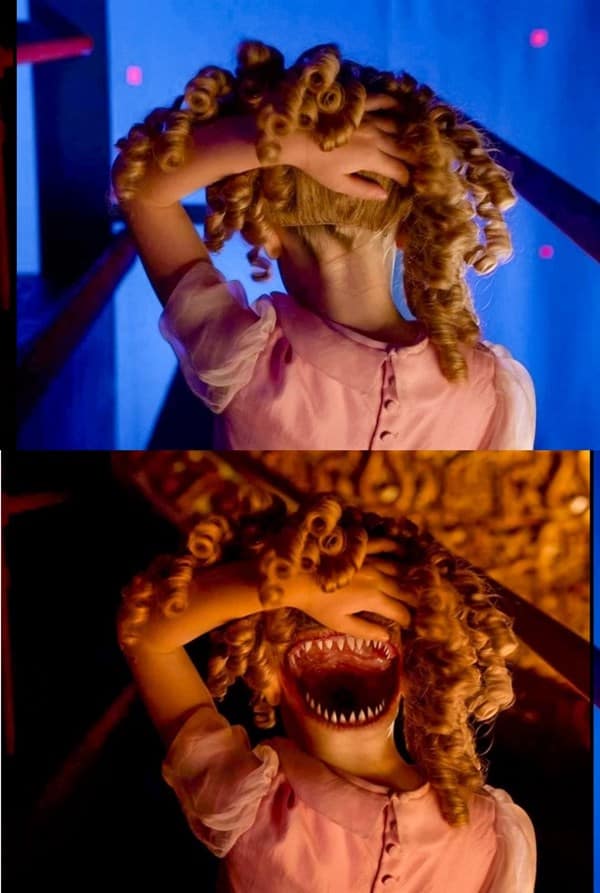 The peculiarities of the children themselves are some of the best visual effects in the movie. While you've already seen a couple of them, Claire is by far one of the more unique characters in that she looks like a regular little girl until she lifts the back part of her hair. There you will find a mouth that is more fitting for a young shark and can strip the meat from a turkey leg in a matter of seconds. This effect is obviously CGI-driven but it is still very impressive.
The visuals in Miss Peregrine's School for Peculiar Children are amazing. Even the behind the scenes pictures and explanations are incredibly impressive to be quite honest. Most people would consider looking at the extras and how a picture is made might ruin the mystery, but in truth it gives a better insight into how the movie was made in the first place. The imaginative story needed a representation that was spot on and could adequately display the characters, and according to these pictures it got just that.
Save