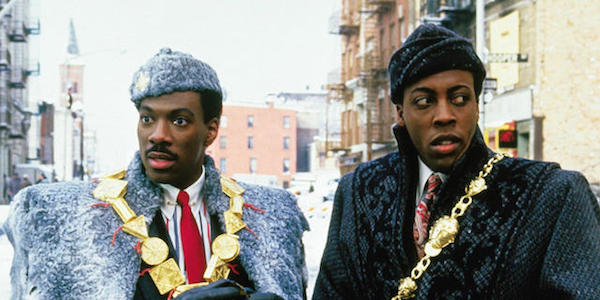 So first Eddie Murphy posts some cryptic tweet about doing a Coming to America 2 and then deletes it. That was a few days ago. But now TMZ is reporting that Eddie Murphy is in the early stages of working on a script for Coming to America 2. Murphy's Twitter account posted a tweet reading "Coming to America sequel?" with a picture of Coming to America star Vanessa Bell Calloway. The tweet and Murphy's whole account have since been deleted. After further investigation, TMZ learned that Murphy has a social media team writing his posts and he did not sanction the tweet. Apparently, there were plans for a post but it wasn't supposed to happen yet because Murphy is still writing.
I gotta be honest. I don't remember the last time Eddie Murphy was in a good movie. Actually I do but I never saw Dream Girls. Seriously, that was his last good performance. Is Eddie Murphy due for a good film? Absolutely. Is that film going to be Coming to America 2? Absolutely not. I personally think Murphy should just call it day. He was one of the greats and I feel like giving it another go could continue to tarnish what was an amazing 20 or so year run.
I simply cannot, under any circumstance imagine a Coming to America sequel that would be even remotely interesting, not to mention how old everyone is now. If there's one movie in Eddie Murphy's career that needs to be immortalized it's probably that one. This is literally as bad as Murphy doing a sequel to Trading Places. Can you imagine how brutal that would be? Just don't do it Eddie, don't.