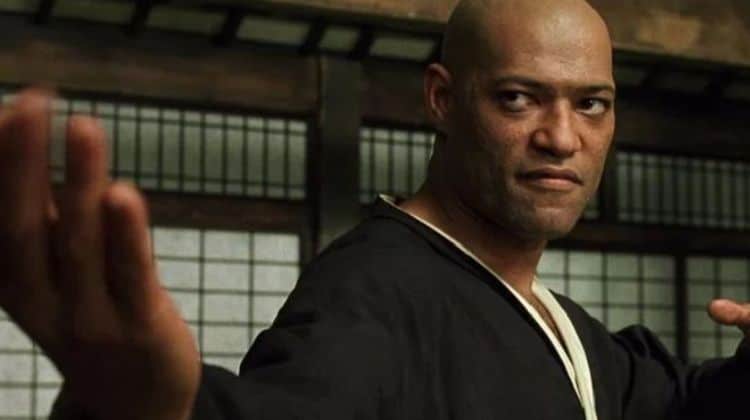 It's an odd choice to bring back Jada Pinkett-Smith as Niobe and not Laurence Fishburne as Morpheus, but oh well. Fishburne didn't even get an invite it sounds like when it came to making his way back into the role that he's been so well-known for, but somehow a lot of fans aren't really finding this to be that troubling. It could be that the Matrix online game saw the character of Morpheus killed off, but if that's the case then it would appear a bit hard to buy that Keanu Reeves and Carrie-Anne Moss would be brought back as Neo and Trinity since their deaths actually came in the movie, and there's still a lot of speculation as to how Lana Wachowski will be bringing these two stars back into the fold. There will be plenty of new talent joining the fray, but the overall story would appear to be on that focuses on the idea that the machines and humans are still at war, which has a lot of people wondering if there's going to be time-traveling involved, or if the story will somehow move forward and show that the truce was inevitably broken. The story will be under speculation for some time since it would appear that it's going to be a while until we're bound to see it hit theaters.
One of the most obvious things to say about Morpheus is that he was a bit long-winded and appeared to enjoy long speeches that were either meant to inspire or to explain and yet came off as a bit melodramatic at times since while they served a purpose, they were a bit over the top from time to time. In a way, he was kind of like the Optimus Prime of the Matrix, a noble and upright individual that sought to do the greatest amount of good and had a belief that things could be made right, but someone that was also bound to make a speech now and again for his own reasons. But apart from that, Morpheus was a useful guy to have around since he had years worth of experience and was a capable fighter that knew how to take on various opponents and was only ever stymied by an agent since obviously the agents were bound to be tough for anyone, other than Neo. It's not certain whether or not Yahya Abdul-Mateen II will be taking on his role, but that appears to be the consensus since it does sound as though he'll be playing a younger version of the character. It's an odd choice to make since time travel still sounds awkward when it comes to The Matrix, but it's one of the only story ideas that might offer something solid for the creators to play with.
There's likely a reason why Fishburne wasn't invited, and it might be that he's getting kind of old to take up the role again, though if the story were moving forward he would be the guy to contact since not only was his character still alive in the movies, he's also a valued asset to Neo and everyone else in his life. But moving on from the character, if in fact, that is what Wachowski is doing, might be necessary at this point. If the character is being brought back as a younger version though it's likely that Lana decided that there would be someone that might be a better fit than Fishburne could be since to be fair, the guy isn't that young anymore and digital aging software isn't quite as up to snuff as a lot of people want to think that it is. There are a number of reasons why he wasn't brought back but at the very least it sounds as though Laurence isn't bitter about it since he's already stated that he hopes everything goes well and that he's grateful for the part that he did get to play in the last three movies. It's not as though Laurence has nothing else to do in his life since he is still involved with the John Wick movies along with Keanu Reeves and there's a high probability that he'll continue his career for a while longer since he's one of the many actors that has proven to be highly reliable and without a doubt someone that people will respond to in a positive manner.
As the character of Morpheus, Laurence Fishburne has already gone down in history since the fact is that he helped to make The Matrix what it is today. Morpheus is the guy that has a lot of faith and belief in a prophecy that may or may not be true, but he's also a mentor that's been through the fire so to speak and been tempered by it as well. If the character is being brought back then hopefully Lana Wachowski has picked correctly and will be able to rely on the individual that's been selected.