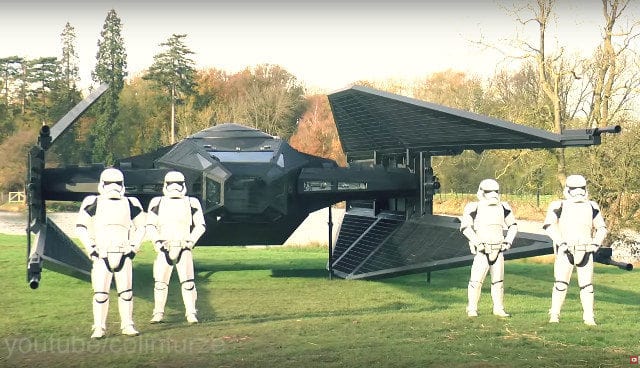 Colin Furze is at it again and this time he's bringing Kylo Ren's TIE Silencer in for a landing as he explains just what went into and shows us how awesome it looks in person. The last time he did anything like this was an AT-AT from the franchise and it came out just as jaw-droppingly beautiful as this one did. What's even more cool is that you can actually climb into the cockpit of this TIE fighter and push the top hatch up for easy egress. Furze managed to get everything he needed for this sleek-looking craft off of eBay and took about six weeks to erect this mean-looking craft.
Even better than that however is the fact that he used a toy as his model for this impressive piece of work. He bought Kylo Ren's TIE fighter online and then sized out everything from that, creating a completely accurate replica that's completely solid and has spared no expense to look as awesome as possible. In fact it was so great that a group of kids walking into the area, all sporting lightsabers, were awestruck for several moments before they rushed the ship, clambering inside as they took turns at the helm and fully enjoyed themselves as they climbed and crawled around. One thing you can count on Furze for is that his creations tend to be very solid.
As a kid I can only imagine what it would be like to see something like this sitting on a wide swath of green just waiting to be explored and enjoyed to the fullest. Obviously its durable since he didn't seem to mind the kids just getting up and doing whatever they wanted. But his plans are to move the entire thing to Stanford where people can enjoy it even more. The AT-AT he created is, as he said, most likely standing in someone's yard at this point and only being enjoyed by a few people. This project is something that he wants a lot of people to enjoy.
Like always when I see things like this it makes me wish that I'd been born with a more industrious spirit and an innate skill for working with my hands to create something this impressive. These fingers have no trouble typing out word after word to describe these amazing sights but when it comes to the actual work needed to be done on these kind of jobs I feel that I fall a bit short. That's why guys like Furze seem amazing for what they can do and even more so for having the idea to do them.
With Star Wars: The Last Jedi coming out this month, in less than two weeks now in fact, clips like this should be getting a lot more attention as people get themselves psyched up to near-frenzy levels as they wait so patiently to go and see one of the greatest franchises ever created as it continues along its course.
The Force is obviously with Furze during projects such as these.