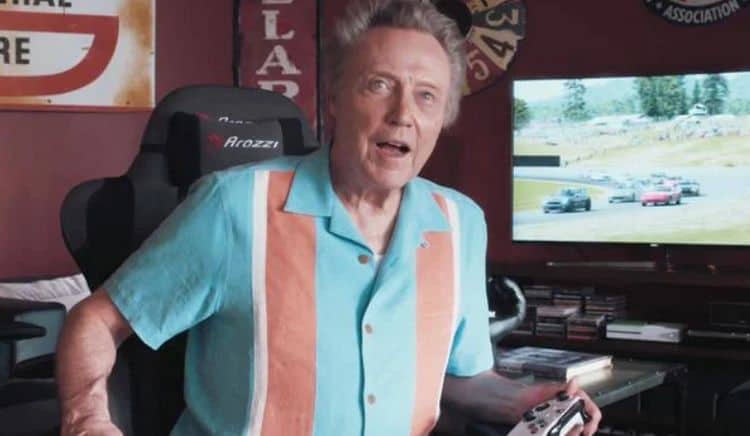 Christopher Walken is definitely old school, but to think that anyone in this day and age has never owned a computer or a cell phone is kind of hard to imagine really. My own father didn't want a smartphone for the longest time and stuck with a flip phone until it stopped working, so it's not hard to think about people resisting technology. But not having one or not using one for such a long time is still hard to picture since everyday life at this point kind of requires one or the other. Hell, a lot of us that write for a living wouldn't be able to do our jobs if we weren't hooked in so often, so the dependence on technology has become almost complete sometimes and requires people to unplug every now and then. But in an interview with Stephen Colbert, it was made pretty clear that Walken has never owned a computer or a phone. A TV is easy to believe that he has, and pictures of him with video games make it easy to think that he's either had some exposure to it or at least had his picture taken with various technology, but when it comes to other forms, well, he's the kind of guy that just doesn't appear to feel that he needs them.
Another thing that's very apparent in this interview is that he's aged considerably over the years since as of now he's in his late 70s and there are moments when one can hear that he's slowing down a bit, which is hard for a lot of people that grew up watching him be one of the greatest actors to ever step in front of the screen. No one really enjoys watching their favorite people get old since as it happens they get a bit slower and it becomes evident that they're not the people they used to be since that energy starts to flag sooner and the pep they were once known for starts to waiver a lot sooner. In other words, they start to wind down and watching this is tough since people want to remember them at their best. But it's still a pleasure to see these folks since no matter what, they're the same people that a lot of fans came to care about so much in the past, and listening to them tell their stories and tell of their career now and then is a lot of fun since some people can remember when said stories happened while others simply get to enjoy listening.
This article does bring up an interesting question of how invested people are when it comes to technology and how bound by it we are in so many different ways since there are still plenty of us that can remember back to the days before the internet before video games became such a huge thing, and when going outside and simply getting away for a while was easy. It's still that way, apart from the technology part, since to be realistic it's necessary to just step away now and again to recharge and remember that there's a lot more to life than what we see on the screen. Back in the day just sitting in front of the TV for too long would have been deemed as a bad thing, but now people sit in front of screens pretty much all day or have on in their face and are continually glued to it for one reason or another. There are those that don't even leave their screen for anything other than food and bathroom breaks, and are continually seeking out something, anything, to keep them stimulated. Some would say that this is a sickness, that it's not healthy, but the fact is that a lot of us work online or need the internet for one aspect of work or another. Things have changed in the last several decades, and the level of connectivity that people desire and happen to need at this point is a little ridiculous. There are some folks that actually get twitchy unless they have a phone or some other device in their hands to occupy them.
To hear someone out there say that they've never sent a text or an email in this day and age is enough to get the attention of many since one has to admit that there are people whose thumbs are working constantly each day to convey what they want to say in an accurate message. Emails and texts are flying over the internet all day, every day, and every night since people all over the world tend to be on their computers and phones so often that the continual storm of mail is one of the few things that never really stops. But Christopher Walken is lucky if he's stayed away from most of it, since sometimes it's nice to breathe the fresh air and not use your fingers for typing.