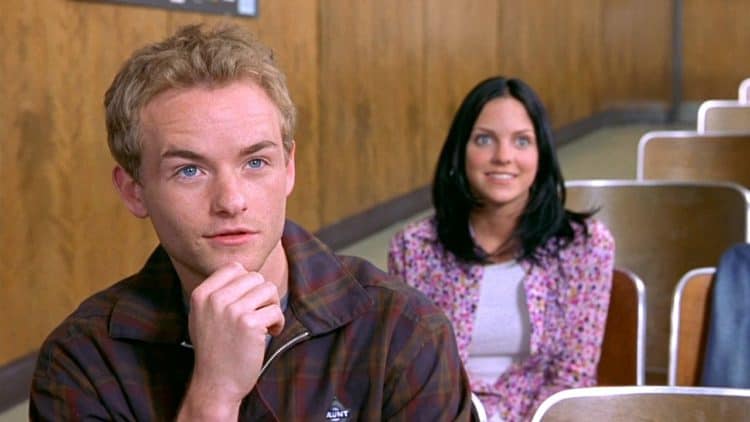 There are actors that seem to gather a good head of steam towards a career and fame and notoriety and then somehow seem to fall off the map. Christopher Masterson didn't quite do that since he's easy to find and research but he's definitely not rocking the small or big screen like he used to and to be honest it's kind of a shame since he's a funny guy. He's played in serious and comedic roles throughout his career and while he's still an active actor he hasn't really quite captured the same level of attention he had back in the day when he was someone that you could recognize from one of your favorite shows or a movie you'd just seen. There's no denying that he's a talented actor and could still perform if given the right show or movie, but since he's grown up things have definitely changed a bit.
Here are a few things you might not have known about him.
He had a very small role in this film but he was getting his butt kicked before Danny stepped in and decided to stand up to the three guys that felt so brave for knocking him down. This was a very powerful movie but this was the extent of his time spent on it.
9. He's Danny Masterson's younger brother.
Danny as you now was kicked off the Netflix show The Ranch after rape allegations were made against him in 2017. Though his brother's attorney has denied these claims Danny has been dumped by the show and by his agency.
8. He's been a stage actor.
It's interesting to picture him on stage, but quite honestly it seems as though he might do very well and be kind of a gifted actor in front of a live audience. He's done so well on TV and in movies in the past that it seems as though this might be part of the reason.
7. He was in Malcolm in the Middle.
As Frances he was the wily older brother that was just as much trouble as his younger brothers and was in fact the ringleader on a few occasions. Throughout the course of the series however Frances tried to grow up and take on more responsibilities, but of course always felt the lure to be bad when it was warranted.
It kind of seems like he might have been an interesting choice as Will Turner but not quite the right fit. Orlando Bloom kind of had more of a dashing look to him while Christopher might have been great as one of the pirates. Honestly, he just looks like he's geared for comedy.
5. He was in Scary Movie 2.
If you notice in these films they've really only stuck to a few core characters that keep coming back, and unfortunately Christopher wasn't one of them. His part as Buddy was kind of another extension of Billy from the first one, just without him being the murderer near the end of the film.
4. His career started in 1988.
It's kind of amazing that he's been around this long but he was a kid when he started and he's getting close to his 40s now. He's done quite a bit in his career to be proud of and has managed to create some memorable characters that people have liked.
3. He's 38 years old.
He's not a young man any longer but he does still look pretty good or a guy in his upper 30s. It was hinted at sometime in the past that a Malcolm in the Middle reunion might be in the works but obviously nothing became of it. To tell the truth it would be interesting to see a reunion show, even if it was just one long, extended episode.
2. He didn't have a lot of steady roles after Malcolm in the Middle.
This seems to have been one of his biggest achievements since he was with the show from 2000 to 2006. He wasn't always present on the show since his character was either in military school or up in Alaska working at a logging camp. Francis was a constant name in the show but not quite the constant character that the rest of the cast members were allowed to be.
1. He became a DJ.
Out of all the possible things he could have done during his career he became a DJ. Don't get me wrong, DJ's can pull down some big money if they get the right venue and are good at what they do. The job of a DJ hasn't been completely phased out just yet and it likely won't be since enough people still value their services. It's just interesting to see what path he chose.
To a lot of fans he's always going to be Francis.
Tell us what's wrong with this post? How could we improve it? :)
Let us improve this post!