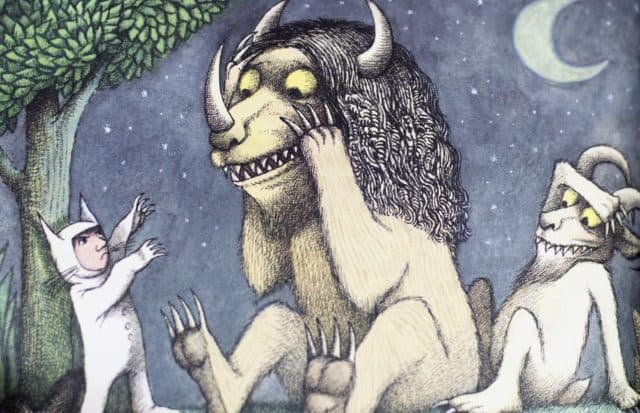 Now THAT is funny. If you can't do one thing then definitely do another thing that makes more sense for your skill set. I wonder if Sendak even contemplated hiring someone to draw horses for him, or if it was just too much trouble and possibly too much money. Having tried to audition authors for my own book covers I can tell anyone that wants to listen that hiring a graphic artist is not cheap, not at all. Even for a kids book this kind of effort is something that most artists want to get paid well for, and I can't blame them. It's a skill just like any other and if you're good at it then you don't want to give it away for free unless it's being done for a friend or family member. Even then it's nice to get some sort of payback.
But if Where the Wild Things Are had been done the way that Sendak had wanted it would have been Where the Wild Horses Are, and somehow I don't think that would have been the same, or had the same impact. It could have been a great story to be honest since Sendak tells a good story and makes it interesting despite the fact that Where the Wild Things Are is really a short and simple book. It was still able to win awards and become a classic children's story that has been around for a while.
The only bad thing that really happened to this story came when the movie was made of it. I normally don't like to speak ill of movies that are made from childhood classics but this was just terrible. It starred some very talented actors that lent their voice to the film, but apart from that it was just flat out bad. The book itself was so short and to the point that building on it kind of destroyed the main point and sent the audience on a two-hour long snooze cruise during which we got to learn the monsters' motivations and understand just what it meant for them to live on their island and really interact with one another. Max's character was a bit overplayed and really wasn't what it could have been if the story had been followed the right way.
The bottom line is that the movie was awful largely because there was simply too much development in a direction that the source material never seemed to hint at, meaning that the director had to make a go of it like a child trying to make up a story on the fly. Points for creativity and attempt, but nothing really for the final result. In fact a film based on a book called Where the Wild Horses Are could have stood a much better chance of being made into something that people might want to watch. I love the original story and still have my copy but every time I look at it now I kind of have to sigh and think about what the director and the producer were thinking when they took on this project.