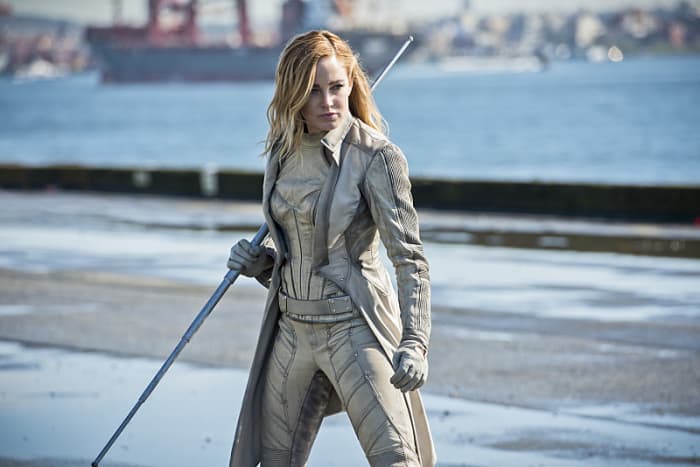 Stephanie Corneliussen is a sight that will surely take your breath away if you appreciate beauty, but she's also a talented woman beyond the runway as well. While she might not be known all that well on the movie circuit she does manage to get around when it comes to TV, though her resume isn't as well padded as it could be at this time. That could be due to the fact that she still seems to have a very successful modeling career and it could take up a great deal of her time. This vibrant young woman has managed to make quite a life for herself and at the age of 31 seems to be doing far better than many people that are currently in the business. So she might not be as well known, but she's not hurting when it comes to the popularity game since being a model she's known in very different circles.
Here are a few things you might not know about her.
10. She was a model.
Let's amend that and say that she still IS a model and makes a very good living at it. She was discovered when she was 13 years old and has been on the road to success ever since for the most part.
9. She debuted in Hansel and Gretel.
She got to play the role of the final witch that the small group took out before the credits started to roll. This movie was something of a letdown according to critics, but it was still entertaining enough to watch.
8. She was married to a Danish rapper.
The rapper she was married to was known as Orgi-E and they were married up until 2011. There's no telling what made them split but there's almost always a reason when it comes to celebrities of any caliber that the media tends to pick up on or leave alone depending on the story to be told.
7. She stars in Mr. Robot.
Obviously she knows how to pick her roles since Mr. Robot has been one of the hottest shows on TV the past few years and almost anyone attached to it has managed to latch on and nab themselves some added fame and exposure.
6. She has a role in the show Deception.
Despite being cancelled this show was something that could have become something if given the chance. Her character was something of a mystery since she was a recurring character and wasn't given a whole lot of explanation but was granted just enough to be intriguing.
5. She has a degree in graphic design.
She's not just a pretty face which is rather cool since she happens to know her stuff when it comes to design and has a good head on her shoulders that doesn't bobble like a select few that skip the education and go right for the fame.
4. She's had guest appearances on several shows.
Stephanie's made her way around to a few shows in her time so far but it really feels like she's been selective and hasn't managed to go wild and just start popping up anywhere. The life of a model though could be why since her schedule could be pretty busy.
3. She's had a role in Legends of Tomorrow.
DC is seriously attempting to play catch up and match the MCU when it comes to their shows and their movies in order to keep the brand alive and still kicking. This is a big reason why you see people coming and going within their shows so as to add some more star power.
2. Her career started in 2000.
She's been around long enough to know a few things and to understand the ins and outs of the business she's in so it's easy to assume that she is selective about what she takes on and doesn't rush out to audition for every part she could possibly get. There's no doubt that she might still have to audition since in the acting industry she's not quite as well known as others and probably has to earn her way onto the set.
To be honest a lot of people don't think about this past the fact of looking at it and then moving on. But she was the on that stood there taking pictures with the white mask. It seems kind of a shame to hide her face but a job is a job after all and modeling certainly doesn't pay that badly.
Whether or not she will ever transition from modeling to full-time acting is hard to say since it seems that she likes what she does and might want to keep both careers as long as she can. As far as modeling goes there might come a day when she has to step down and decide to be an actress, but that day is still a while in coming it seems.