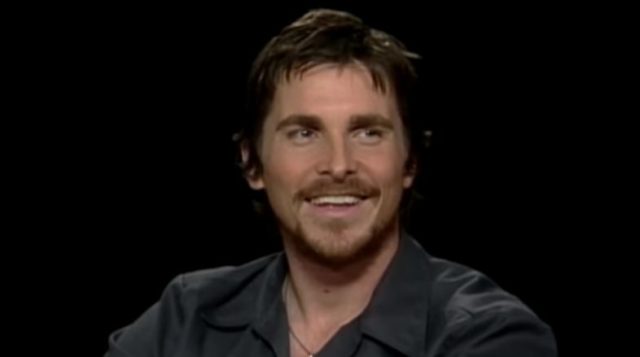 It's been well known for a while that Christian Bale can quell his English accent pretty easily. In this interview with Charlie Rose he sounds as though he was born and raised in America. It's interesting though to learn that he was excited about doing Batman only after he finally read one of the darker-themed graphic novels. Batman has undergone a couple of different shifts throughout his long existence, but with Bale he definitely got a darker cast and a much more aggressive manner.
One thing you might find interesting is that a lot of the main cast was in fact British or or Irish in the case of Liam Neeson. A very important thing to remember is that you don't call an Irishman a Brit or vice versa, at least not in punching distance as Nolan would say. But interestingly it was a happy accident that most of the cast were not American born. That's just an intriguing fact about the movie, not something truly groundbreaking.
One thing you can respect Bale for is that he didn't attempt to build upon or replace the other actors that had portrayed Batman before him. As he says he respectfully ignored their performances, not criticizing or attempting to follow them in any way. In other words he made the role his own and did what he felt was necessary to bring Batman back to the big screen in a much more forceful way. This is a big part of what made the movie successful and didn't allow it to drown as the previous movies did.
Bale accomplished something with Batman that the others didn't. He took Batman to the darker, more obsessive side that was ruled and guided by his fears and overly critical behaviors. In the comics Batman has essentially ruled the criminal element by making them so afraid of him that they wouldn't dare step out of line. The weaker criminals that followed the super villains wouldn't dare cross Batman unless they were being ordered by their bosses and had numbers on their side. Of course that wouldn't help, and it would eventually come down to the baddest of them thinking that they could take out the Dark Knight.
Fear is a big part of Batman's character since he uses it but is also hampered by it at times. The earlier Batman films used this dynamic as well, but not to such an extent. In Batman Begins the fear gives a gritty and very sharp feeling that tells you it's far more realistic than it's ever been. There is no more goofing around, no silly stuff as there was with Clooney and Kilmer, and really none of the dark humor that there was with Keaton. All of them had some redeeming values to their movies, especially Keaton, but Bale has elevated Batman to a level that is kind of heads and shoulders above the others and will be difficult to top.
Plus, maintaining the English accent seems to be a piece of cake.
Save